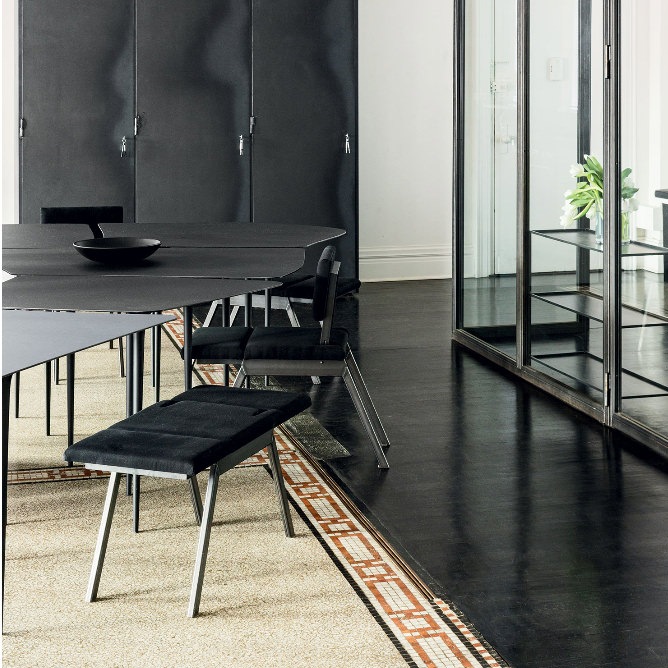 Nowadays the iron and the metals that are inserted in the furnishings have been returning to their natural finish, called in jargon "raw" (raw iron is commonly called black). This brings out the material with which the product was made and its natural imperfections make it even more alive and unique in its kind.
THE BLACK IRON
The word "iron" in common parlance is usually used to also indicate low strength "iron alloys" and mild steels which have a silvery-gray appearance. Very resistant, ductile and malleable, they are distinguished by black iron which is darker, more delicate and is used exclusively for indoor structures, therefore much less exposed to atmospheric agents. To preserve it from humidity and the risk of rust appearing even in sheltered environments, black iron is usually treated in a very natural way with beeswax or transparent varnish, both solutions make it slightly brighter and create a sort of film protective.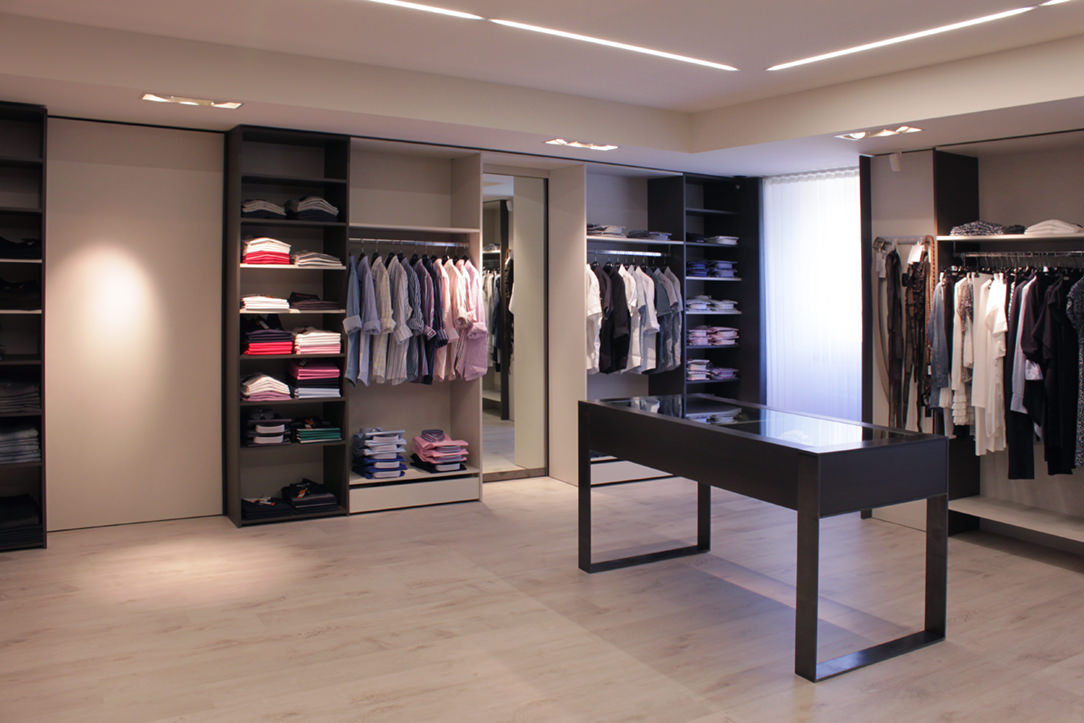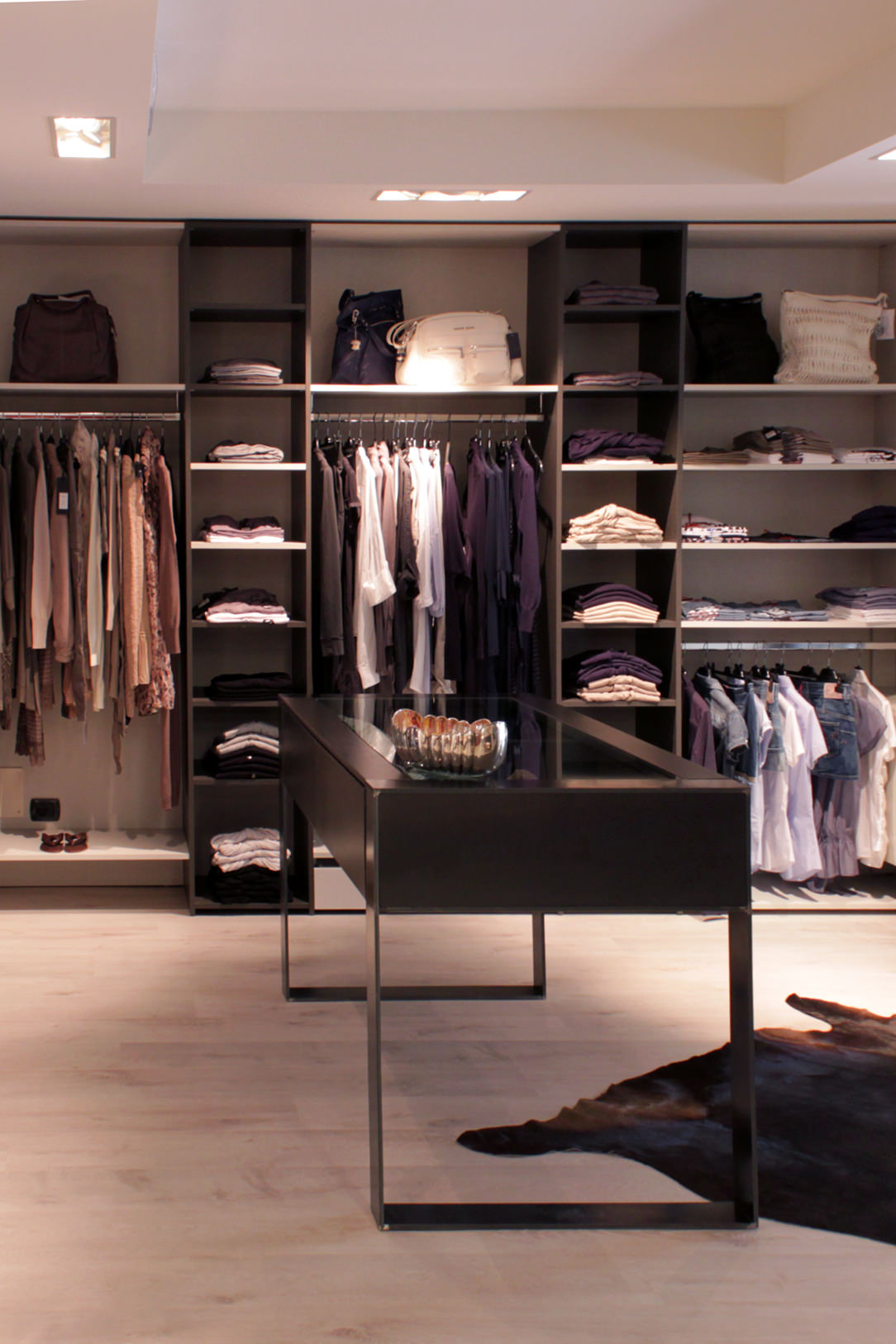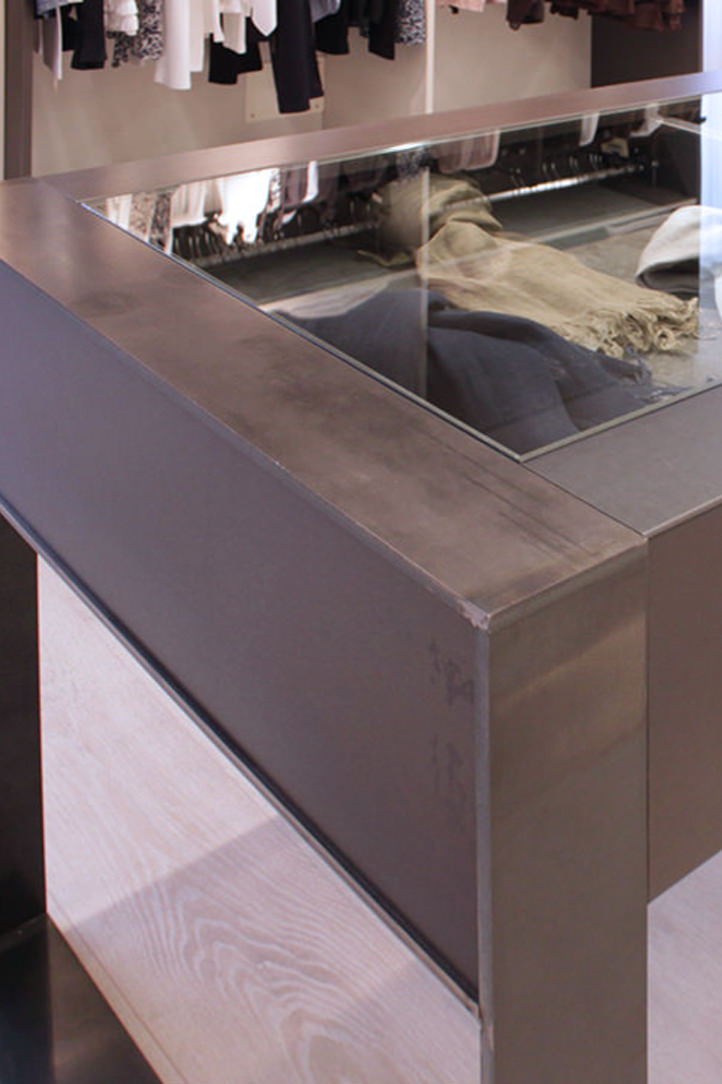 A Boutique realized where the concept Fil Rouge was precisely the combined black iron and material finishes
THE IRON IN THE STRUCTURES OF THE ELEMENTS
The peculiarity of polymaterial structures is that the different materials are harmoniously associated with their aesthetic and structural characteristics. In terms of resistance, what wood supports with its 2 cm, metal can do with a tenth of the thickness. This is why we like to use metals in load-bearing structures, such as the backs of bookcases or furniture. Black iron kept in its natural color can also act as a contrast with a very light lacquer or with a wood-colored essence. Below are some examples where you can see how the structure is light even if extremely dark.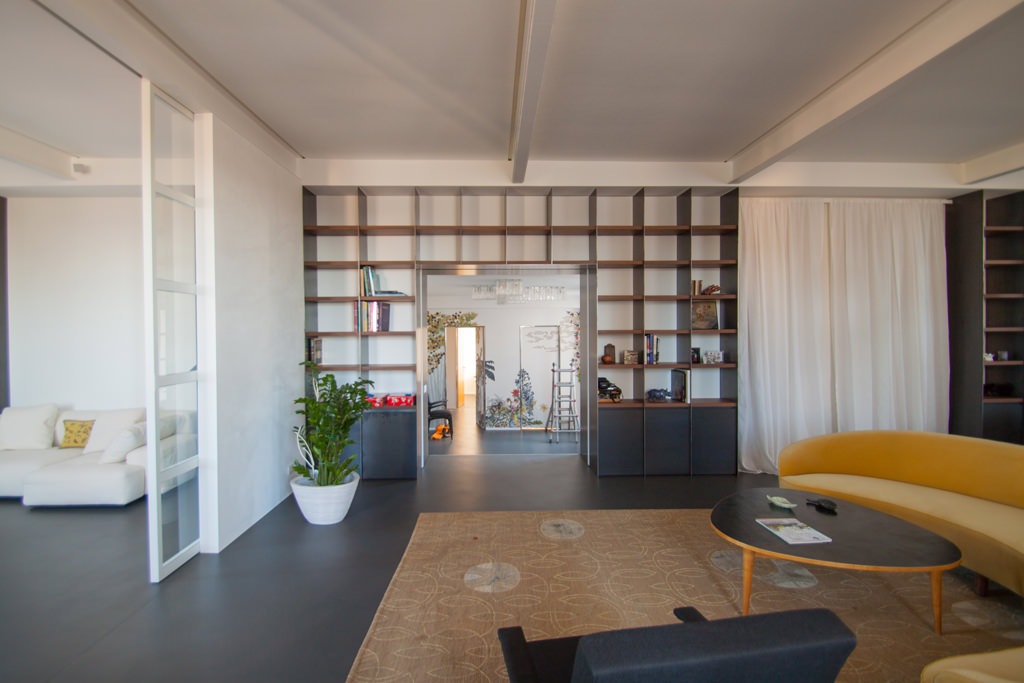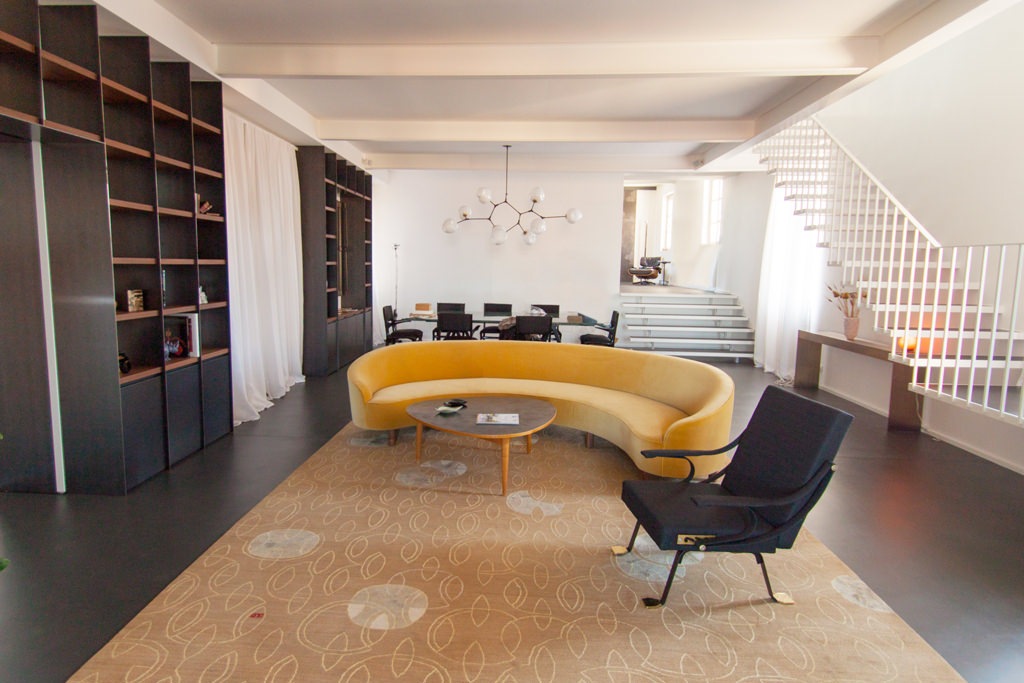 Also used for fixtures in its industrial spirit, it never abandons glass in combination with room dividers, as for the kitchen below which is separated from the living area. The shaped tops of the tables and the turned legs are also in very thin black iron sheet.
Black iron is also often used as a "lid" for furniture, a sort of thin blanket that envelops the entire element and sometimes reaches the floor, becoming a base. An example are the doors and the column of this kitchen and in the bar cabinet below, where the iron in addition to supporting it repairs the support surface, which, like all horizontal surfaces, is more subject to wear than vertical ones.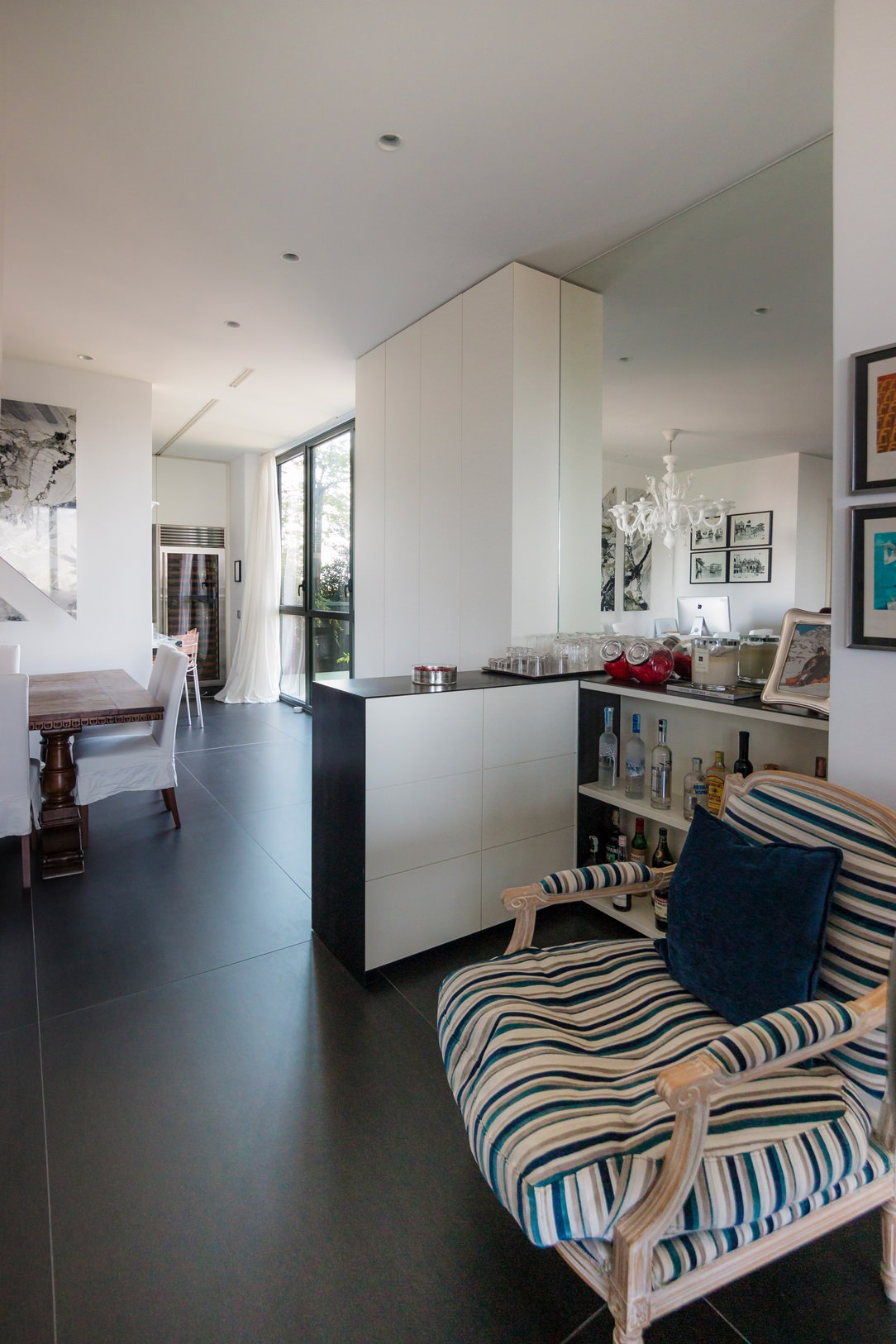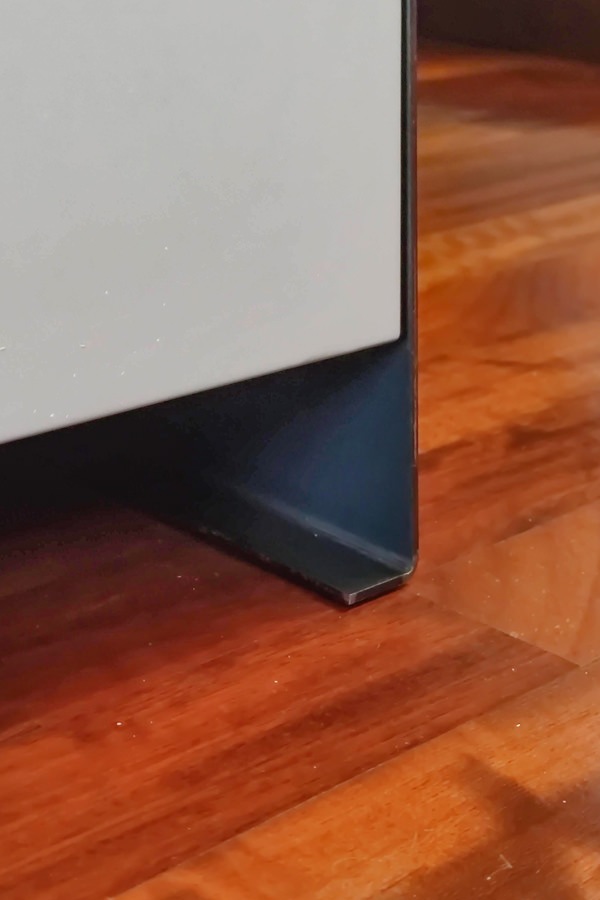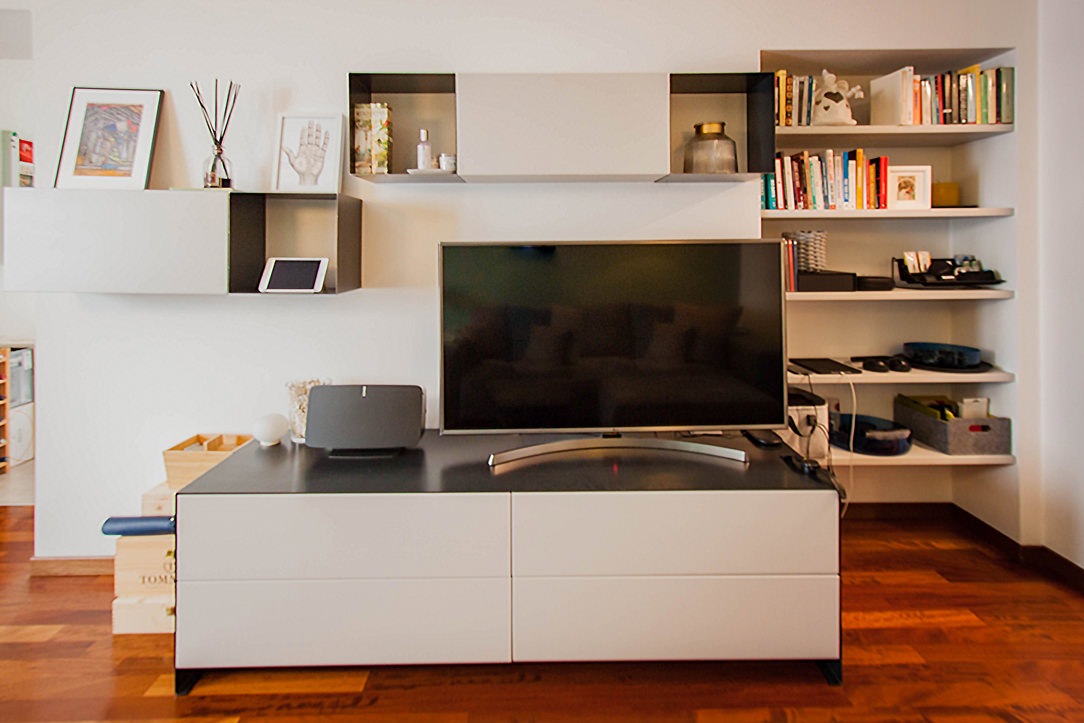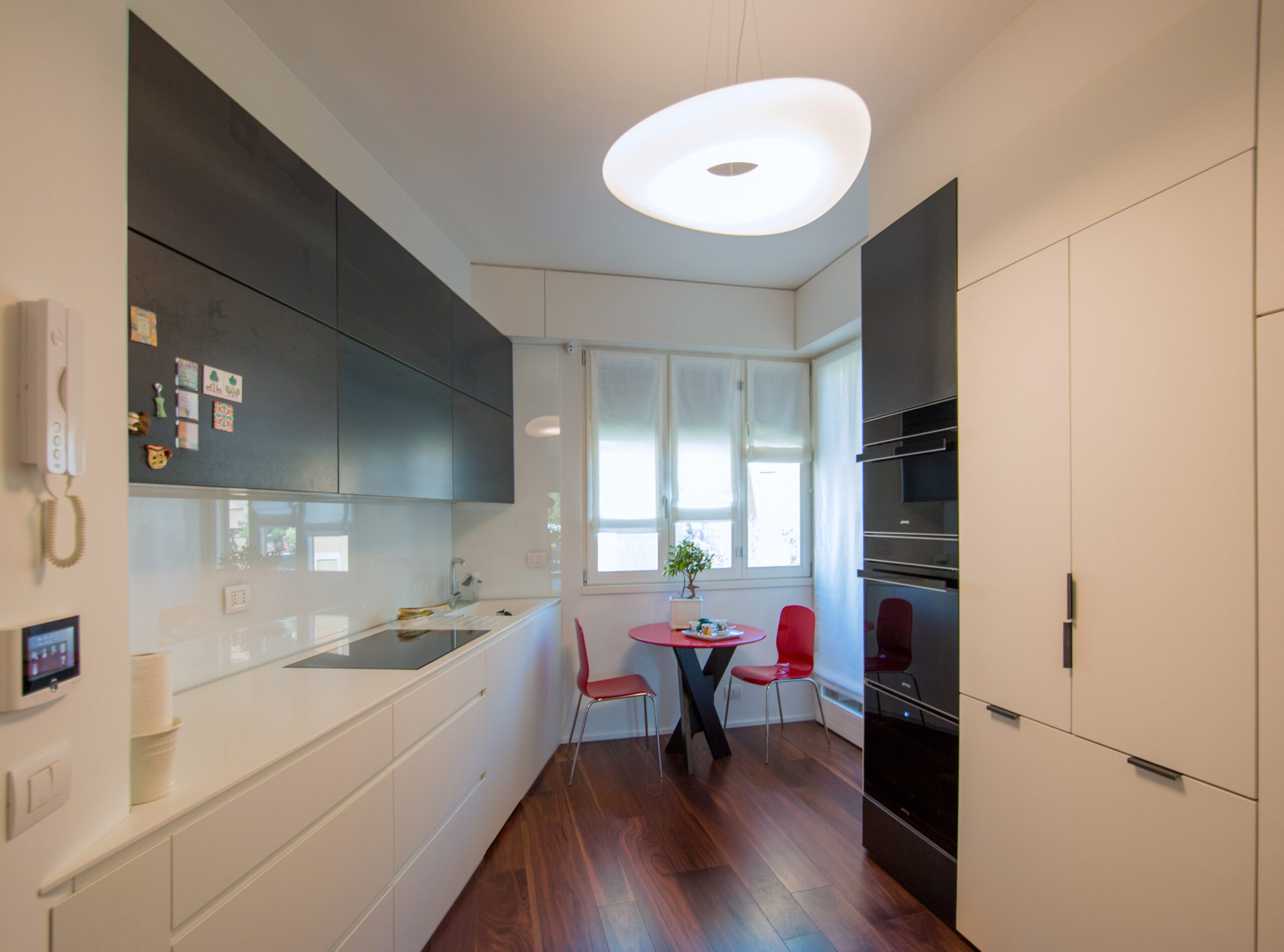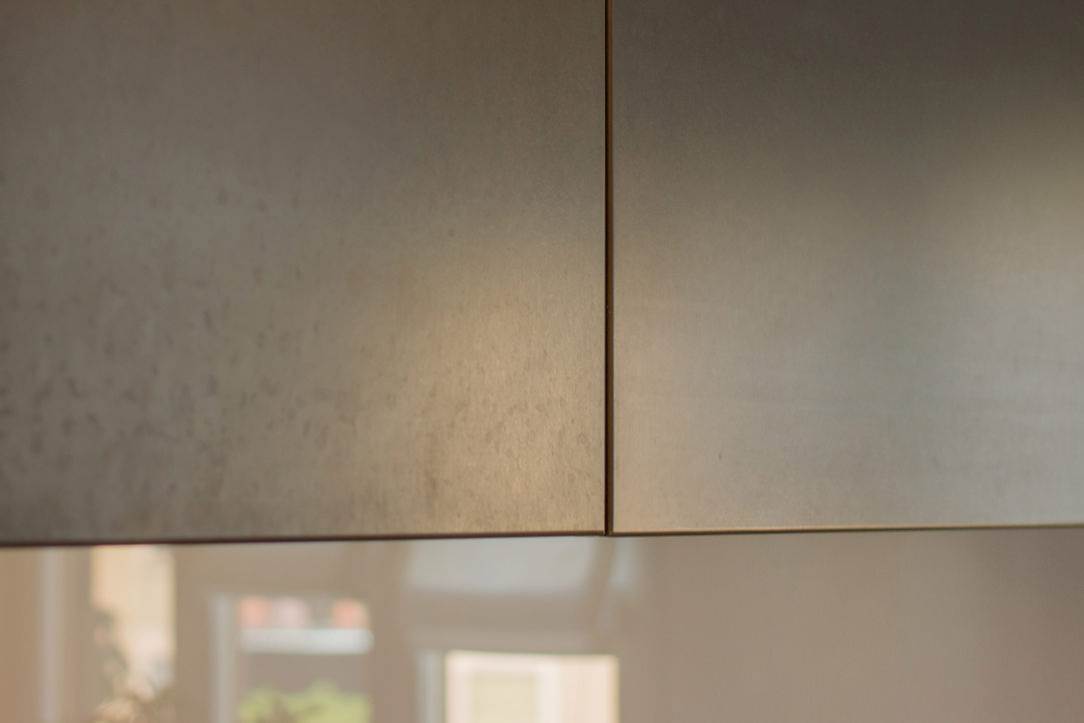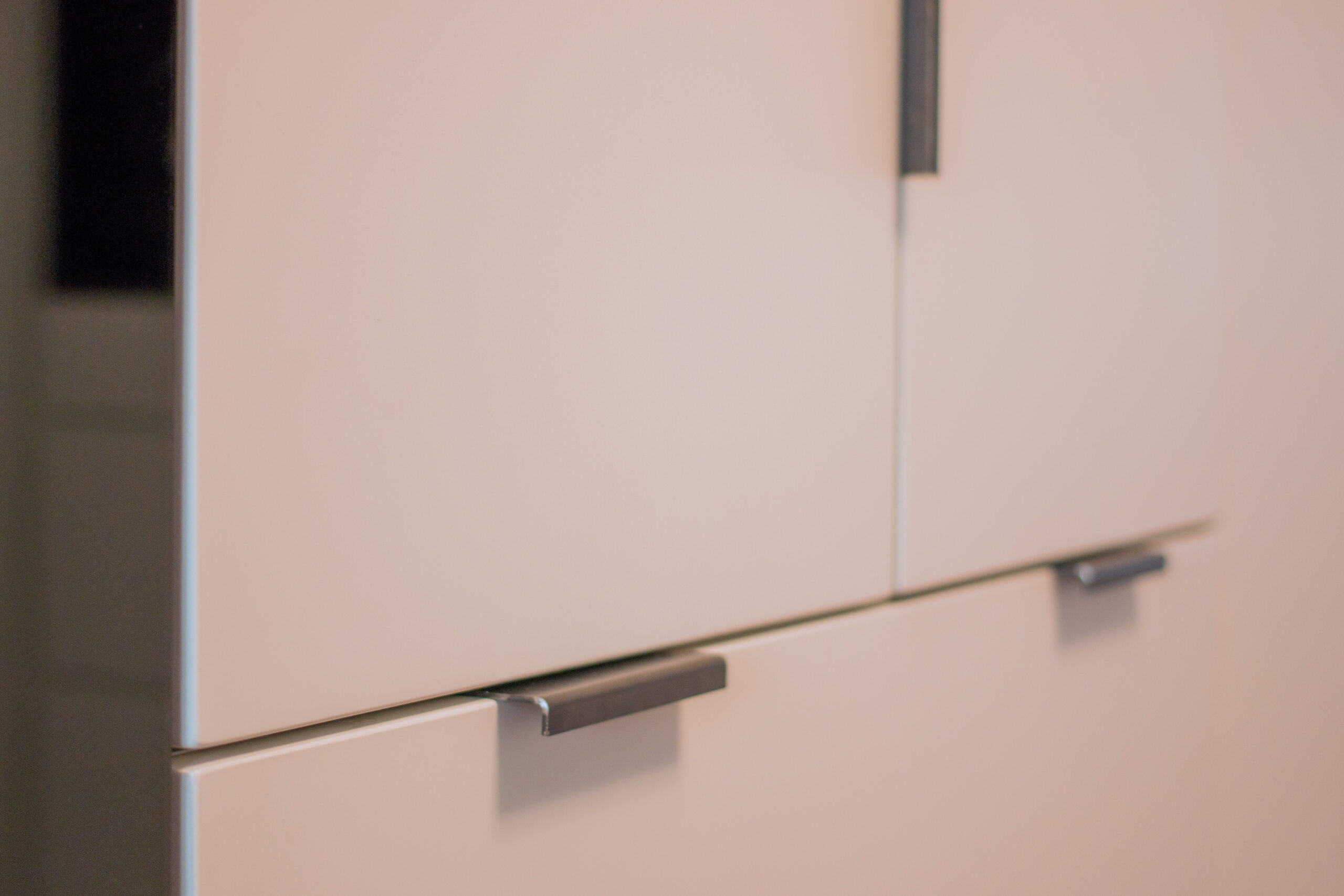 THE BLACK IRON IN THE COVERINGS
Due to its dark and irregular color, very masculine and elegant, black iron can also be used as a wall covering to create a sort of partition or portal. A portal to divide the rooms inside the house, at a symbolic level to make the user cross towards a place that will be able to express himself only when he crosses the black threshold, many times illuminated from above or sideways with LED strips. Here are some examples of portals, some inserted only in the doorway and others much more structured, with also an equipped part in which to hide some furniture at the service of the house.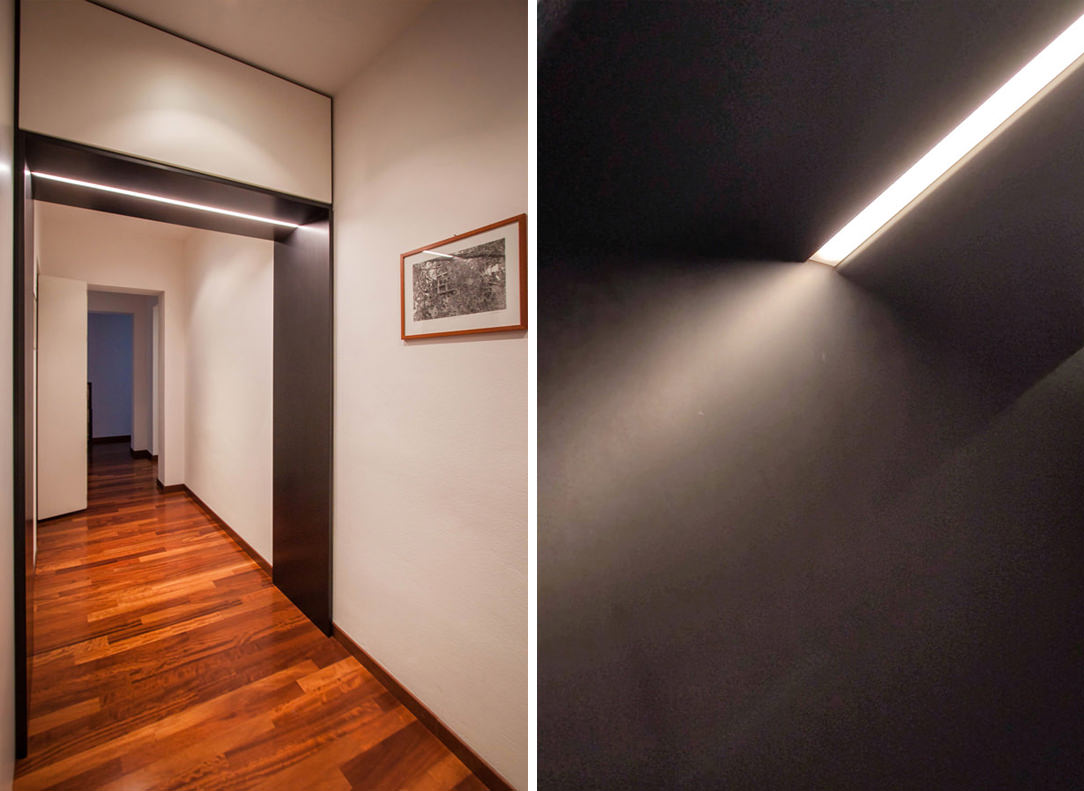 Portals that act as partitions and equipped portals
Branding paneling, on the other hand, is very common in the Retail sector, for example the corners of the Tiziana Fausti shop, in which the black iron panels visible from the central space have externally the laser engraved logo of the Brand which is located inside the box used for it.
ALL BLACK
Having a furniture completely made of black iron is not only possible, but sometimes it is the right choice for certain types of environments and goes well with the rest of the furniture. Here is our realization of a niche furniture in which doors and structure, both external and internal, are covered or structured in black iron.
Here is also another example of a black iron structure with desks and tables in the same material made by Locatelli & Partners inside a church, their old operational headquarters. The contrast of the cold and dark material inserted in a context that does not belong to it, as in this case a Baroque church with warm tones and completely frescoed walls enhances the material and turns out to be a harmonious union.
THE BLACK IRON IN THE DETAILS
Black iron can also be found in small details and accessories, such as handles and frames. They turn out to be a touch of color and a detachment of fundamental material for some very clear and bright environments. The detail gives an extra touch of elegance to the environment and characterizes it, an example are these full-height handles that reflect the frame of the glass partition of this splendid kitchen made in Barcelona.
MATERIAL FINISHES
We have previously said that the surfaces of raw materials can be non-uniform and have defects such as scratches or changes in tone in the plate. Excellent for industrial-style interiors, black iron was in fact very common in production workshops at the height of the industrial revolution, sometimes even rusty and together with oxidized brass, ceramics, knotty solid wood and antiqued glass it became the symbol of those years. This raw effect of raw materials has become a trend of companies and design and architecture studios and in recent years it is in great demand. Precisely for this reason, numerous products have been created that reproduce the textures inspired by the essences of wood, black iron or natural stones for exclusive wall coverings or home furniture. The important thing about these finishes in addition to the visual aspect are the tactile emotions capable of arousing thanks to rough and often irregular surfaces, which together are called material finishes. Together with black iron, an anthracite-colored textured paint can give a hint of color and roughness to other elements in which iron is not present but which are in the same environment. An example are these shaped shelves associated with a black iron desk with a Linoleum desktop in the same shade of gray in the center of the top.
THE BLACK IRON IN THE PROJECTS
After all these examples we can only break a lance in favor of raw black iron, like a dark dress that is always in fashion its use, which is both bold and bold or minimized in small details in home furnishings makes it alive, vintage and fascinating at the same time.