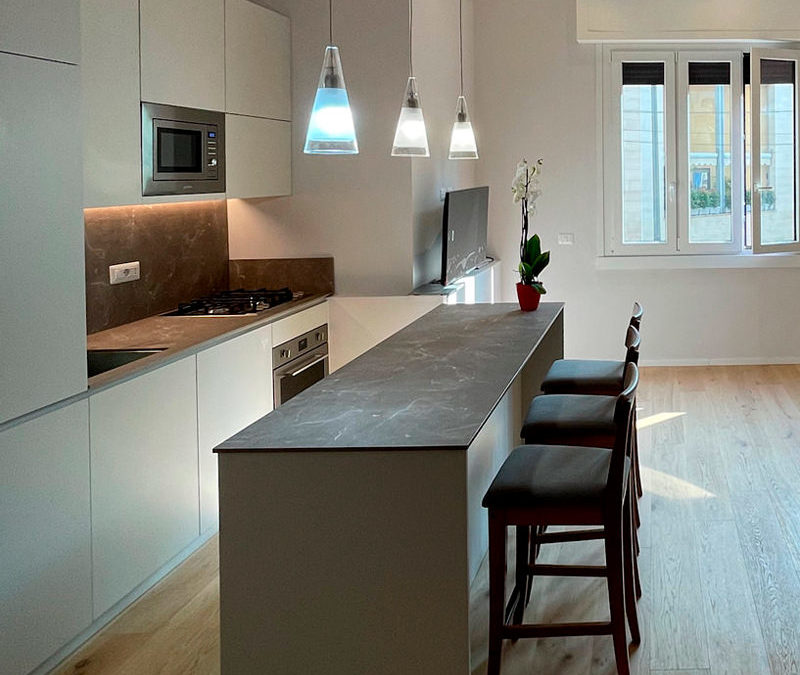 To optimize the available space, in a small two-room apartment in Milan, we have created this minimal, discreet, bright and elegant kitchen.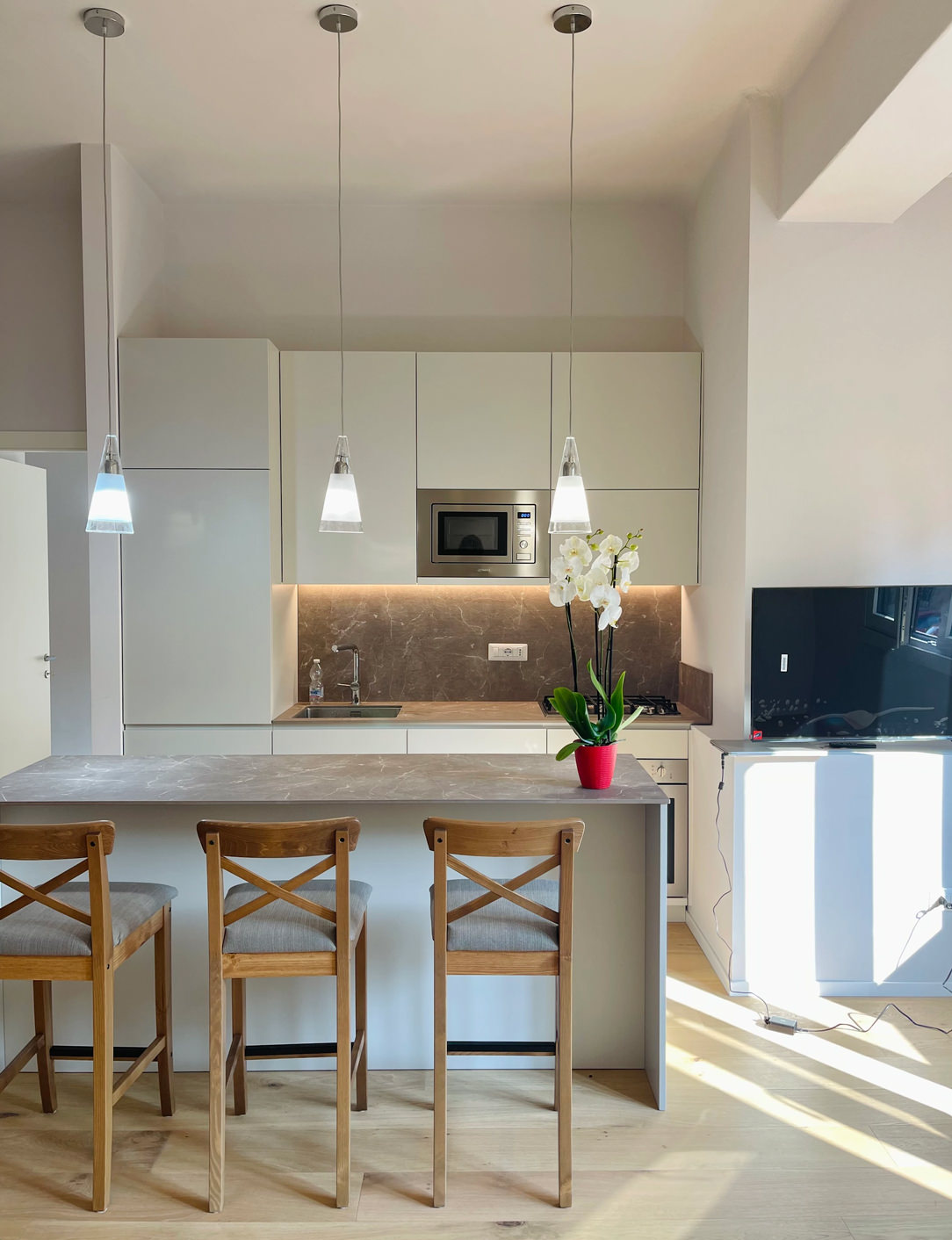 ALL LIVING ROOM
As we wrote in this article dedicated to the Kitchen Snack Table, in contemporary kitchens the living area and the kitchen increasingly merge into a single open space.
There are no more partitions even at the entrance to the apartments, the door opens and everything we can have in a Living area is revealed in front of us.
So the kitchen, dining area and living room become a single room, just like in this article dedicated to a functional kitchen.
To give harmony to this triptych, the kitchen must therefore lose its "operative" spirit by hiding ladles, pots and groceries and becoming a more discreet element, which is revealed only when necessary.
Much more storage space and doors closed from view, while maintaining everything needed to cook, serve and enjoy food.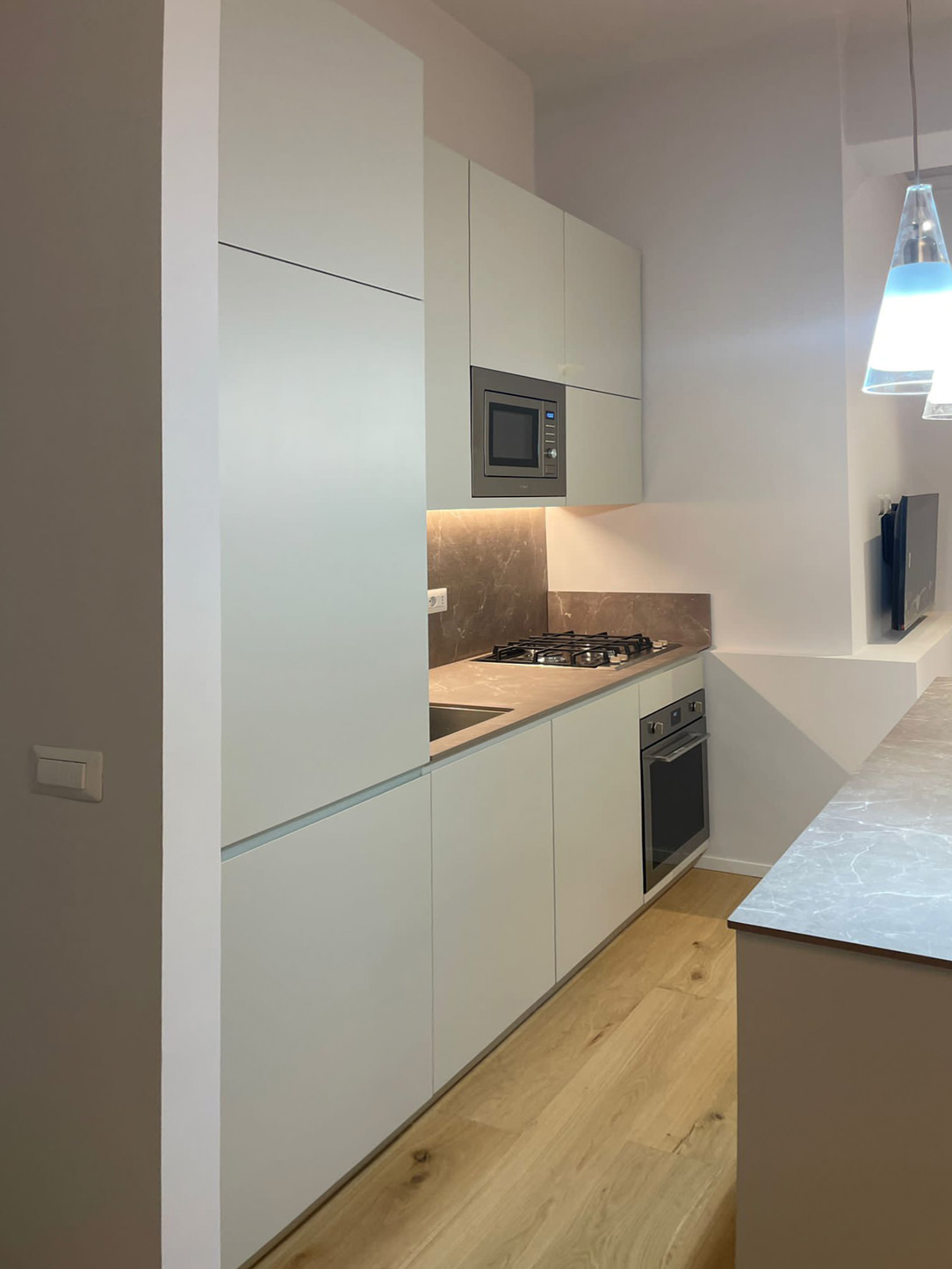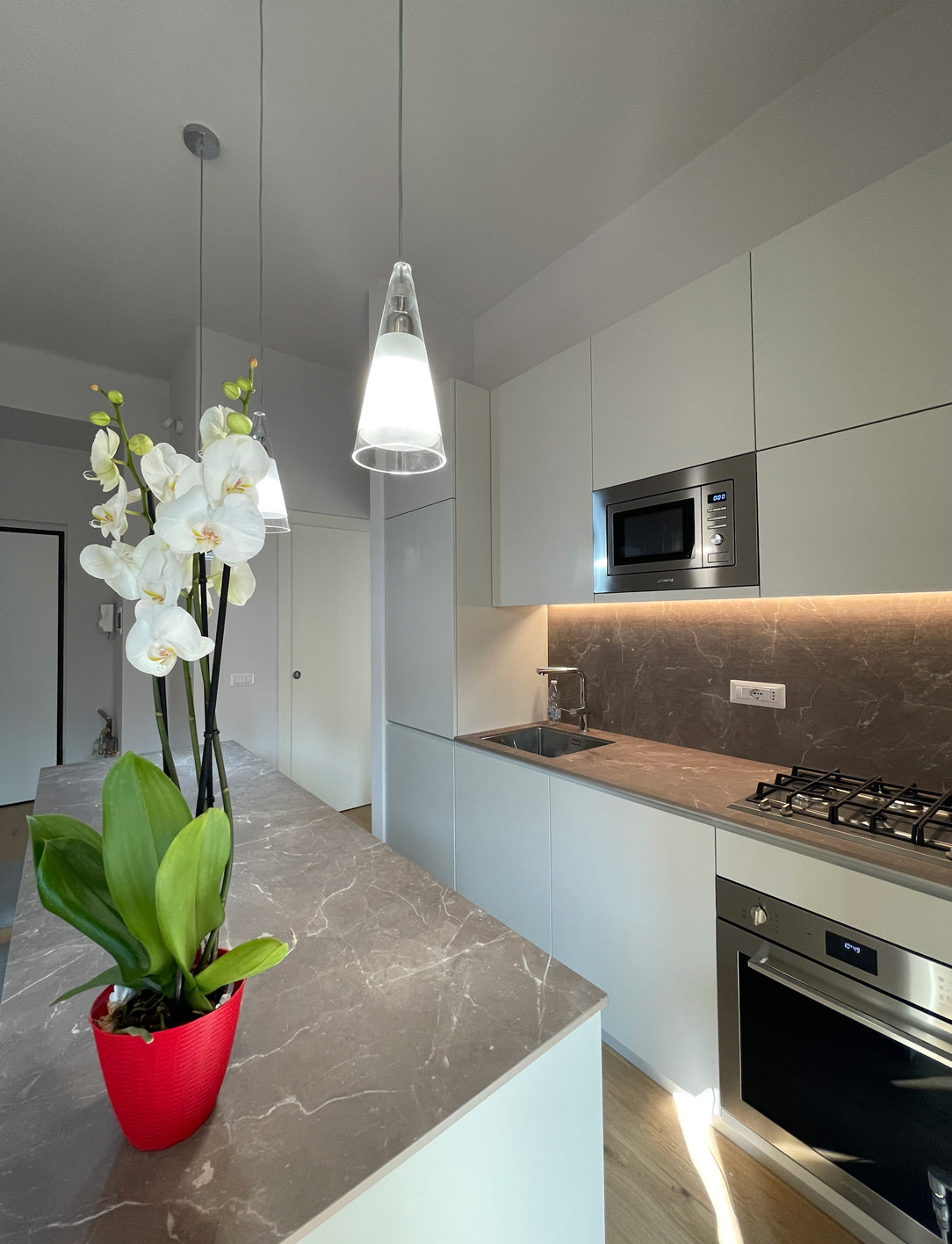 ​PHYSIOMY OF A MINIMAL KITCHEN
This kitchen, designed by Artecasa studio, optimize the most of the available space.
It develops in the niche of the side wall at the entrance with an equipped part and a front island that acts as an additional storage space and snack table for quick meals.
What can therefore be seen from the entrance are two horizontal gray stone floors, which develop parallel.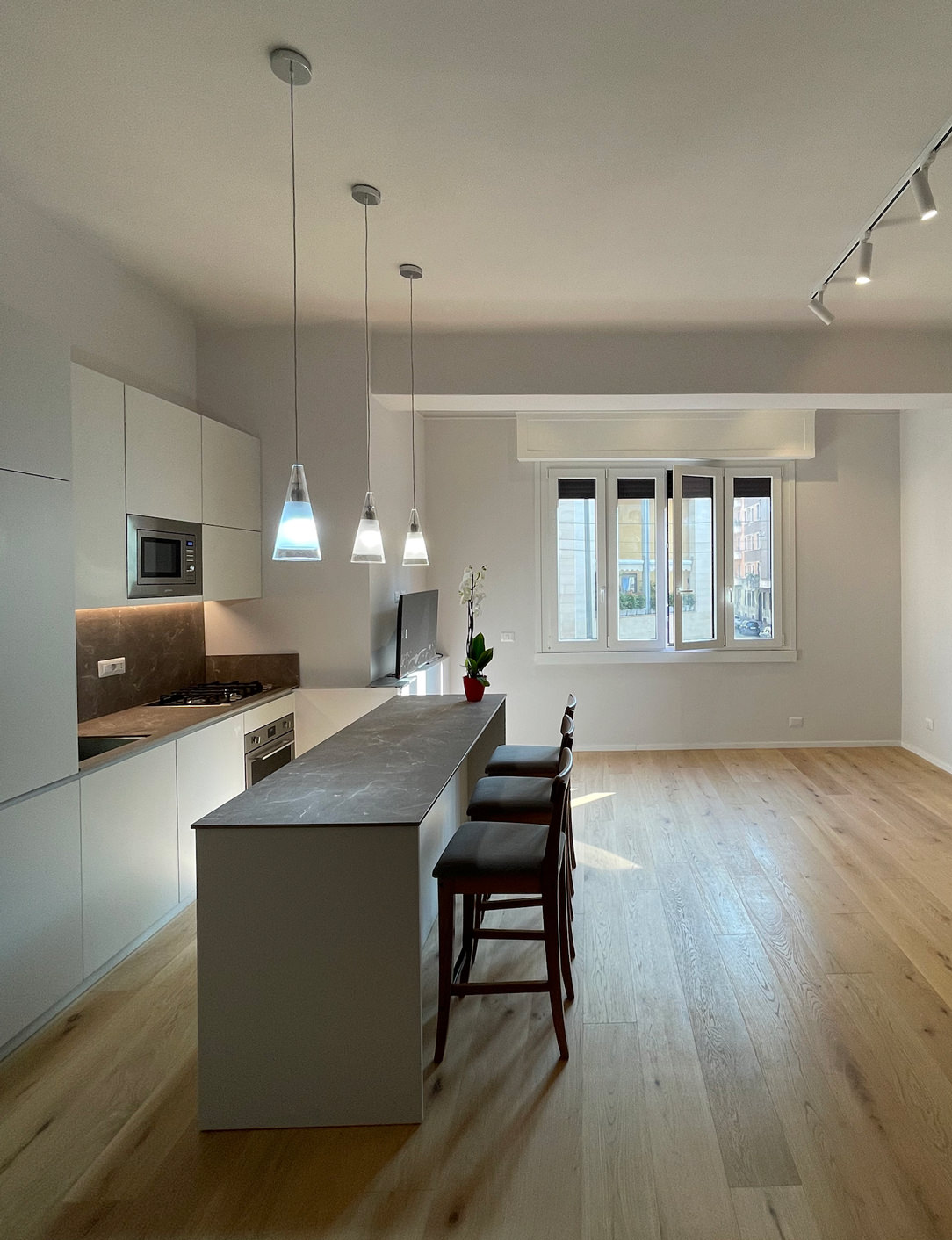 In the equipped part in the niche there are all the appliances needed in a minimal kitchen: a refrigerator column, a dishwasher with a two-bowl sink, a hob with an oven and a tall microwave.
In the island, lots of storage space, drawers for cutlery, pots and crockery and the top that extends towards the living area becoming a snack top to accommodate at least 3 diners.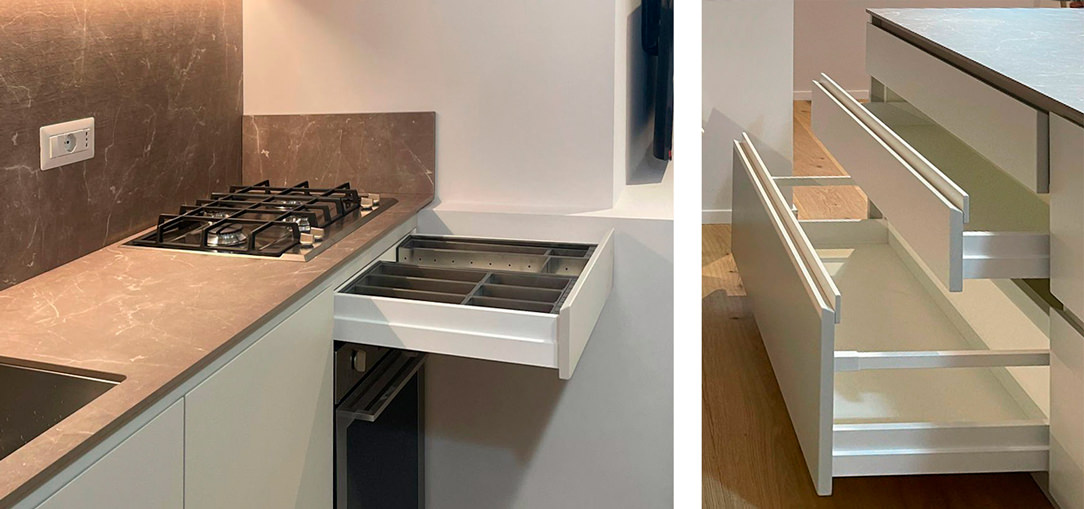 The atmosphere is convivial, and the lights are skilfully designed to amplify this feeling of intimacy and warmth.
Three ceiling lights descend punctually on the Kitchen Snack Table, the backlit wall units remain at the service of the kitchen while a track with adjustable spotlights illuminates the relaxation area.
The colors are light and glow in the light from the large windows at the back of the room.