A contemporary and essential kitchen, which minimal lines define an elegant interior total white.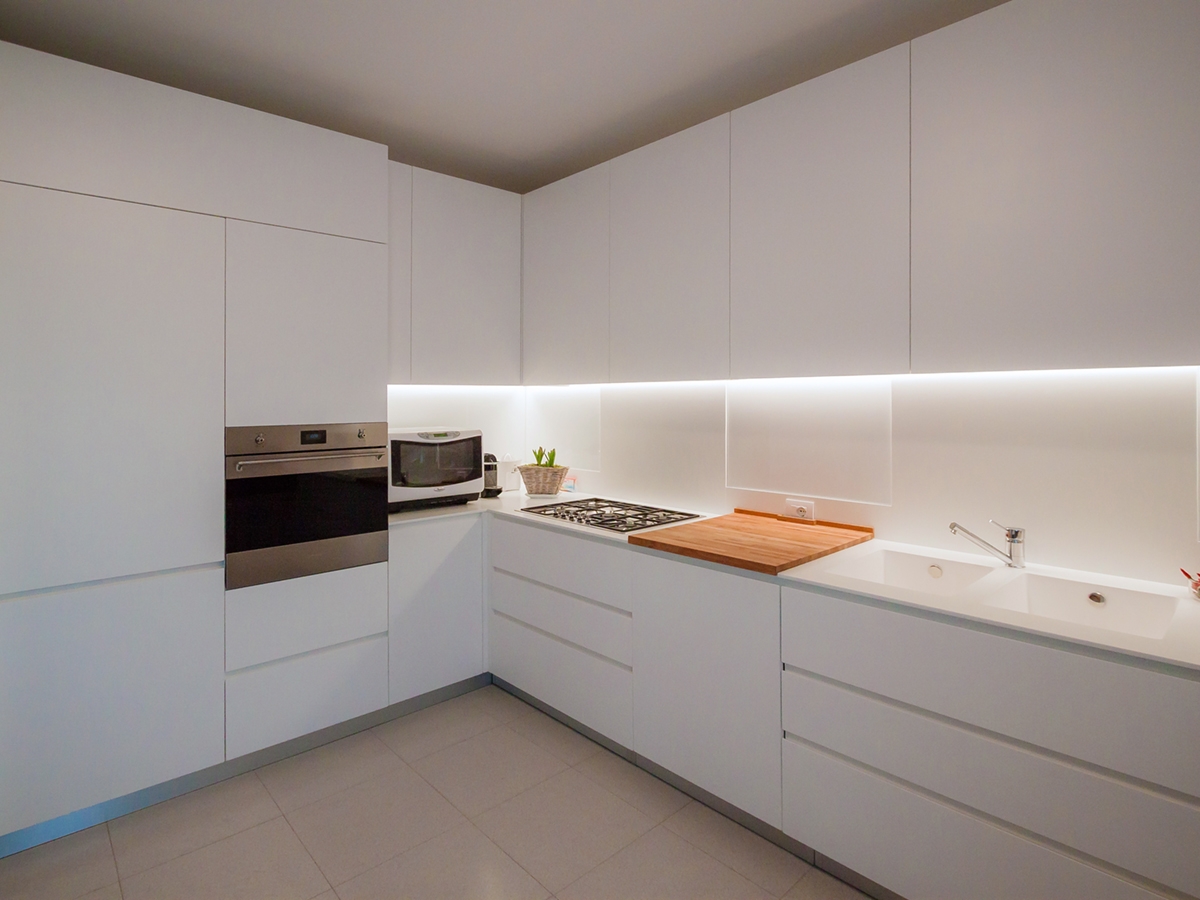 THE PROJECT
The most elegant contemporary interiors are characterized by simplicity, created with opaque surfaces often white.
It's the case of this kitchen, which essential setting does not give up contrasting elements such as the central cutting board and the snack bar on the right.
Placed at the angle, it has a visual and conceptual asymmetry that creates different visual solutions: on one side the full-height door holds containing shelves and drawers in a continuous visual surface.  The recess oven occupies the lateral part in communication with the countertop that uses the internal corner.
The main side is instead occupied by the horizontal subdivision between the upper wall units and the lower containing volumes. The linear lighting, hidden in the edge of wall units, creates a feeling of emptiness able to give lighten to the room's perception.
In particular, the upper wall units are made up of fixed-width doors with an extremely elegant profile, spaced from each other by a visual line obtained with a small slot. The lower part instead consists of two drawers with recessed handles symmetrically mirrored to the central door. This takes up the width od the warm-coloured wooden cutting board which creates an essential and extremely elegant contrast in the choice. On the right wall, ending the kitchen project, a wooden support takes origin whose abutment reaches the floor. It is precisely the latter that gives greater dynamism to the room by inserting a chromatic element in contrast with the surrounding neutrality. It also recalls  the finishes of the fixtures chosen for French-door on the side.
SHAPES, COLOURS AND MATERIALS
The elegance of this project lies precisely in the choice of essential stylistic lines: privileging straight lines to curved and dynamic shapes, the resulting visual composition is extremely simplified. Essentiality has therefore become the key-word to design furniture, which renounce exposed handles in favour of recessed edge. These are visible through the play od shadows created by the use of different depths.
In an extremely contemporary project like this one, Corian is the obvious choice fot the kitchen countertop, which allows to hide edges, returning the idea of a very clean and elegant continuous surface.
The Corian countertop also continues on the back surface of the hob and sink, creating an interesting material alternation with the white lacobel. For the remaining surfaces, a textured matt lacquered MDF was chosen.