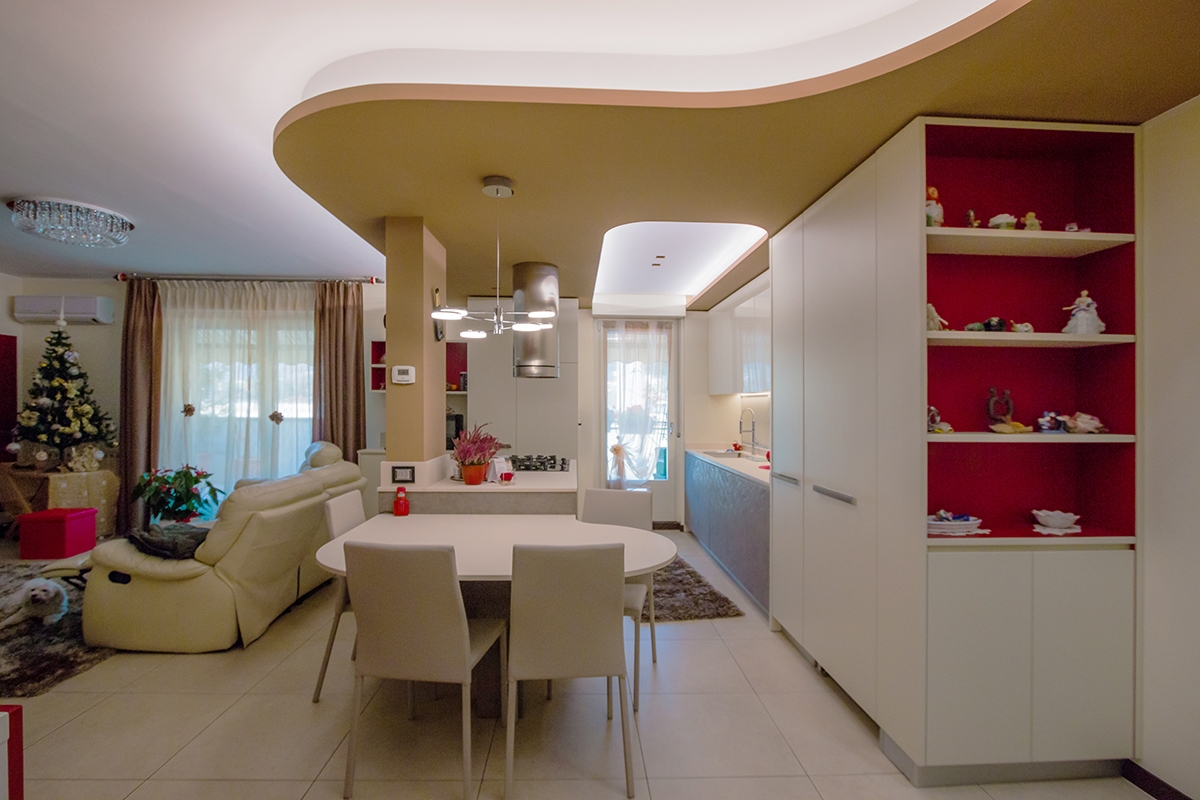 The first of four kitchens we want to present you is part of an interior that we can define as "contemporary pop".  
THE RENOVATION
The renovation of the kitchen area develops around the element of golden curved false ceiling, strongly desired by the client. The design challenge consists of thinking at a room that could fit at best this existing element with a strongly stylistic character.  This ceiling is reckonable both for the chromatic choice and for the shaped profile, in addition to the strong dynamism underlined by the lighting following the shape. The closing wall and its entry door have been deleted in favour of an open-space. What remains is a load-bearing pillar, also gold-painted, to which an island worktop with lower containing volumes, cooking hob and drawers. The ovens are arranged in the full-height elements on the left side of the French door opening towards the kitchen's interior. In doing so, they are almost hidden. The real development of the kitchen follows the course of the back wall which in turn is made of two different types. On one side, the full-height doors that house both the built-in refrigerator and storage shelves for food and drinks are placed directly facing the living area. The depth of the full-height element acts as a support for the living room lightened by service shelves. The red backdrop also recalls, giving further chromatism, some wall units in the living room and the choice of some furnishing elements such as vases. The second type, visually lighter, occupies the kitchen's part adjacent the French door. It consists of a countertop with a built-in sink and suspended wall units with internal shelves. The lower part holds the washing machine compartment.  
SHAPES AND MATERIALS
Even the chromatic and material choice reflects the desire of giving incisiveness to the room, through the use of plastic laminate in two different shades of gray. A contemporary pop interior animated both in shapes and colours, in which the attention to the design of each components is easily visible. To further enrich the kitchen, the extractor fan as an element of design, and the suspended light that recalls the material choice. The dining table harmonizes the ceiling's shapes, attached to the adjacent cooking island.