During the last few months, our daily life has been completely changed by the global pandemic.
Not only our habits have changed, from small daily gestures to the way we use services, but also the working and private world have been seen from a different perspective.
If until recently, in fact, the coexistence between home and work life was a voluntary choice of a few people, now almost all families have faced concepts such as smartworking, DAD and online meetings.
But what does it mean at a spatial level to introduce smartworking? How have customers' needs changed to cope with this now habitual type of work?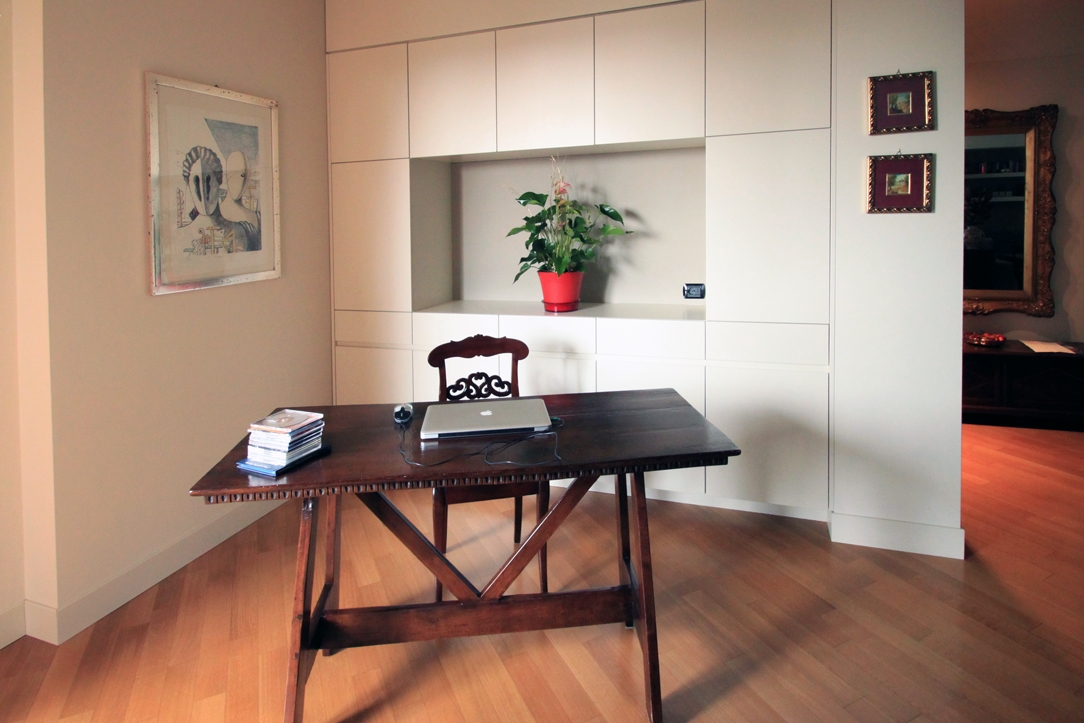 THE COEXISTENCE BETWEEN THE PRIVATE SPHERE AND THE WORKING WORLD
The change in habits and lifestyles has involved all aspects of our daily life. From simple gestures such as shaking hands as a sign of knowledge and respect or greeting each other with a warm hug, to participating in cultural and recreational activities such as shows or concerts. The changes that have necessarily been introduced have certainly upset our perception of the private sphere and relating.
Added to this is a new conception of the working world that has increasingly entered our domestic environments.
Previously, in fact, working remotely had been a choice or opportunity for a few, who deliberately knew how to relate both aspects in a single environment. Whether reserving an entire room or dividing domestic spaces with a well-defined design logic.
This is the case, for example, of this studio-home whose design has followed the principles of Feng Shui to organize the internal activities.
From a refined choice, the introduction of a smartworking corner has now become a necessary requirement. All the more so if in the same household the different users need a computer station and well isolated settings to be able to carry out online lessons or conferences on Zoom without interference.
HOW HAVE CUSTOMER NEEDS CHANGED DURING LOCKDOWN?
The months of "confinement" between the first lockdown and the subsequent subdivision into regions according to the chromatic distinction have certainly influenced our way of living the house.
Just think of the number of hours spent at home in the last few months.
As a consequence of this, first of all, a critical vision of one's own interiors has been introduced. Small improvements to be made, more refined aesthetic details, functional additions in each room.
To demonstrate this, it is enough to recalling the endless queues in the furniture megastores and DIY stores after the first opening in May 2020. More or less improvised solutions, which many times also involve a "self-taught" component to create greater satisfaction in the final result.
Even in custom-made furnishings, customers have followed this wave of changes with requests that could make the spaces in the home more functional. Whether it is a greater attention to the aesthetic impact or a technical improvement, it was certainly the way of seeing one's home that changed. To all this is added the aforementioned parameter of necessity, and here is the most common request in recent months: providing a corner for smart working.
FROM THE LARGE WORK SPACES …
In our previous creations, we had already faced with study corners and walls equipped with desks to make the different rooms more functional. Surely bookcases and most of all desks have become the center of attention. In some cases, these have occupied an entire dedicated room with large and bright rooms. This is the case, for example, of this workstation with an industrial touch inserted in full-height bookcases. A linear element runs along the wall perforated by large windows providing a comfortable support and work points. To embrace the central relaxation area, bookcases with black waxed iron sides and wooden shelves. Another example is this gallery equipped as a study, which exploits the slope of the beamed ceiling to place an essential desk overlooking the living area, and a bookcase embedded in the lower heights.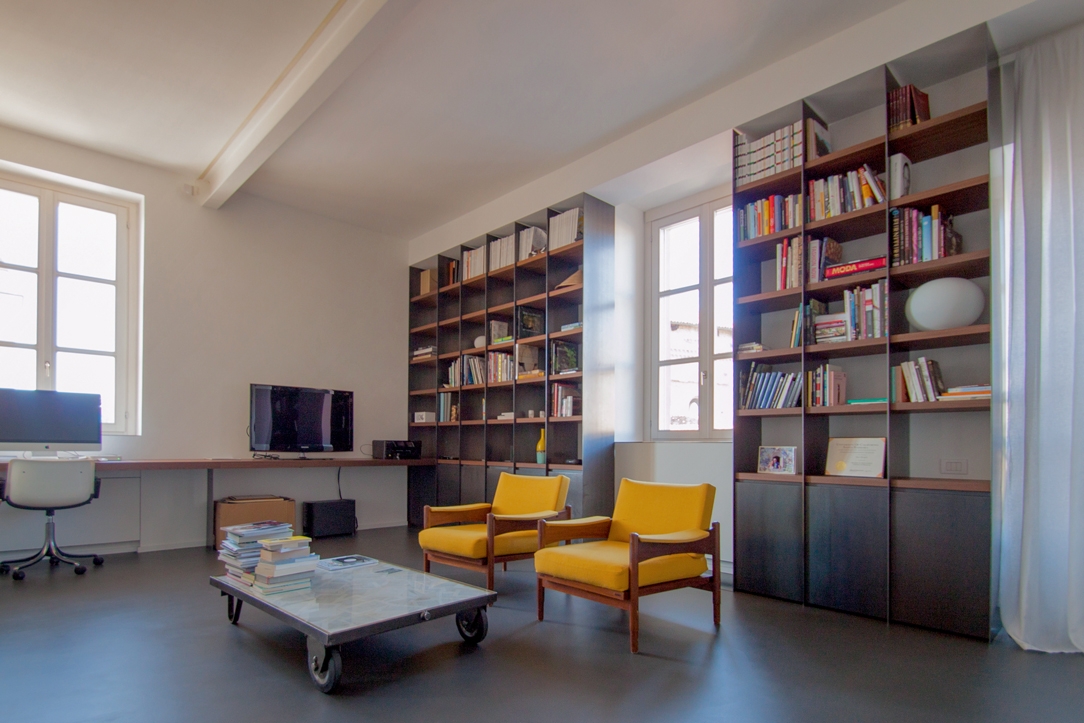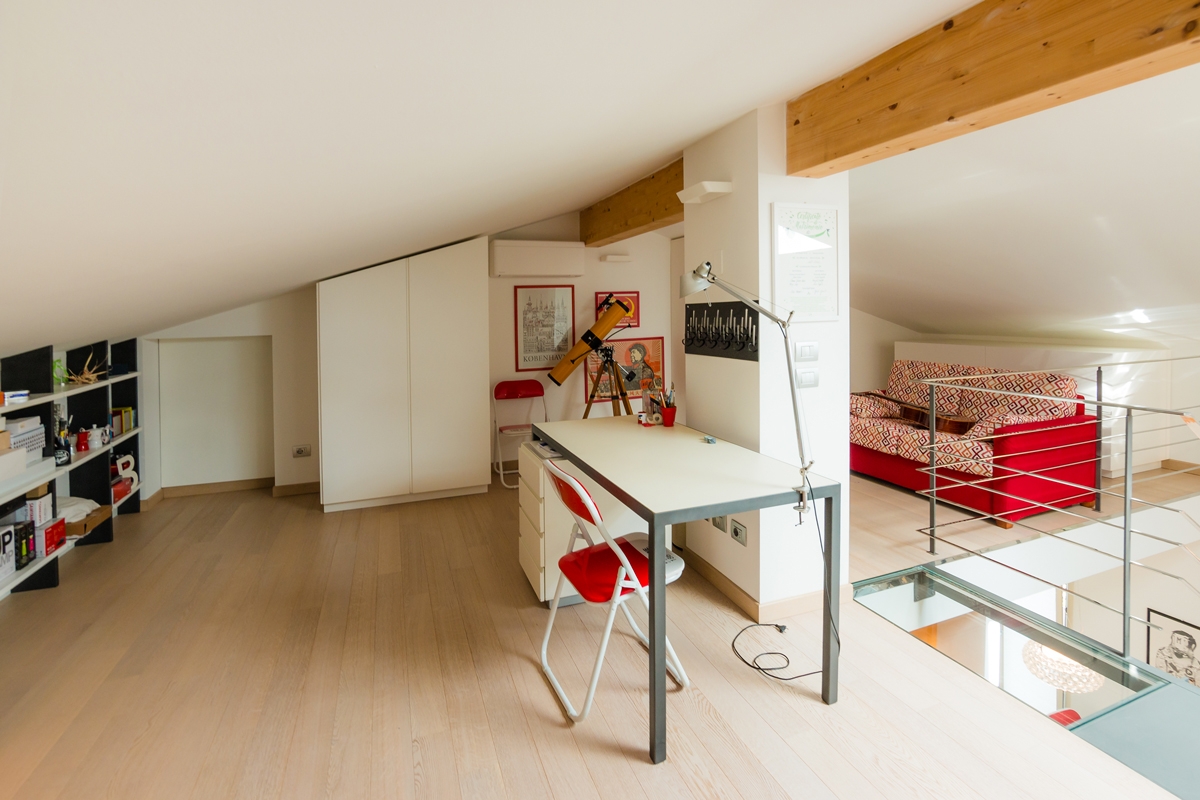 With the passage of time and changing needs, even the work spaces have adapted to the existing furnishings, making them as functional and essential as possible.
Among these, the classic large desks with drawers and a service bookcase. This version offers a material and chromatic combination with a masculine touch: anthracite gray linoleum top with painted iron supports. It is accompanied by a shaped shelf with black waxed iron covering that with simplicity and elegance provides a practical support for small objects or books.
On the side, a bookcase with shelves which is part of the compact structure which also includes the bed with a trunk opening and wardrobe with bridge component. The black waxed iron sides contrast with the matt lacquered MDF shelves, creating material and chromatic contrasts with a strong character.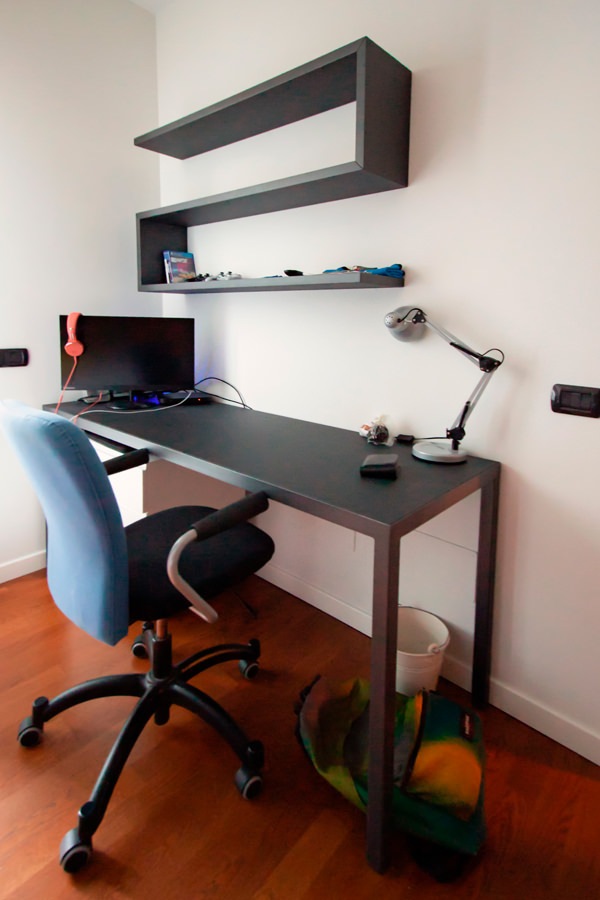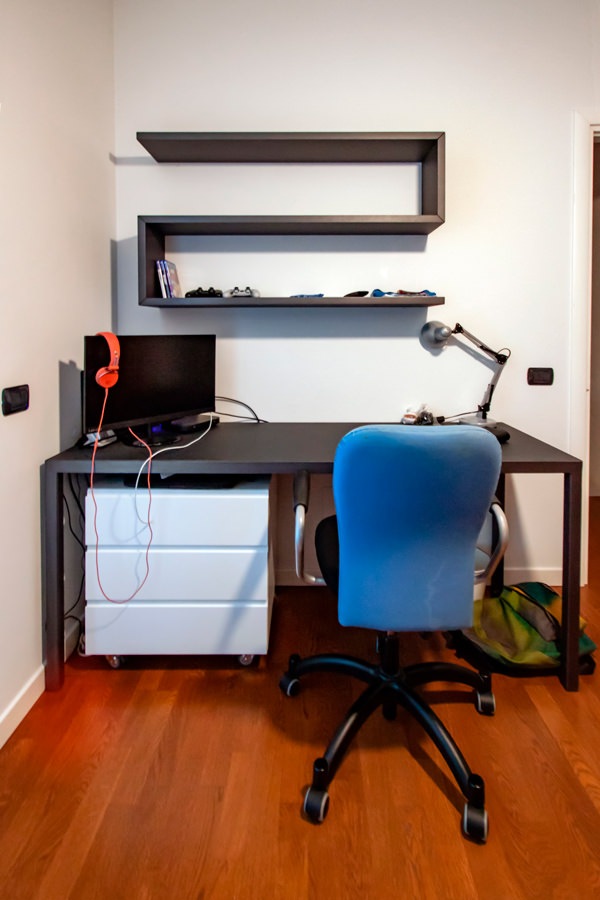 A desk with an anthracite gray linoleun top and iron profiles defines the masculine stylistic imprint of this bedroom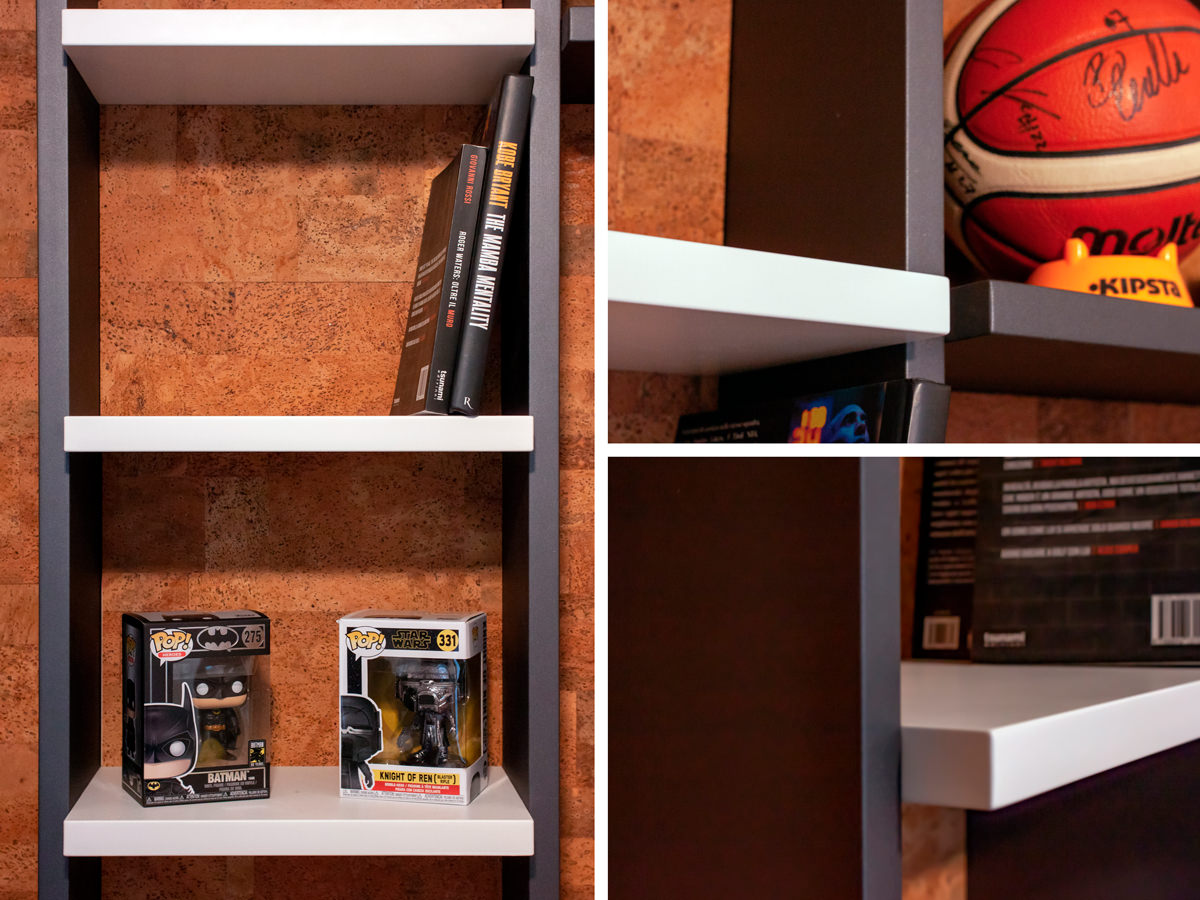 Details of the bookcase and shelves in black waxed iron and matt lacquered MDF.
Material and chromatic contrasts.
TO THE SMALL CORNERS OF SMARTWORKING
The passage of time has given rise to more essential projects, which also exploit small spaces with practical and compact solutions. Among these, a support surface with flap opening attached to the existing bookcase.
The wooden shelves become the key to horizontal reading, appearing almost set between the vertical sides in lacquered MDF. Games of depth and geometry give life to a room marked by an essential visual rhythm.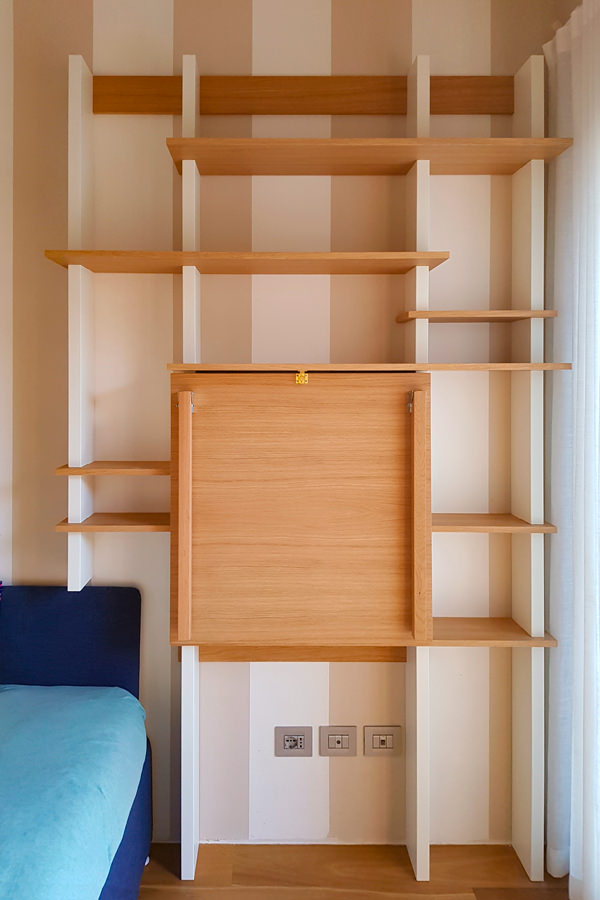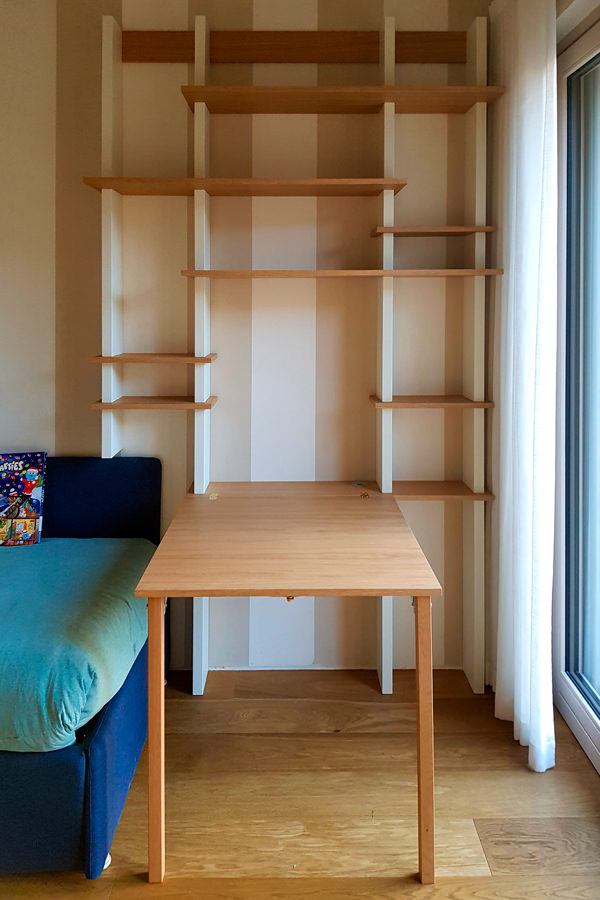 The top of this wooden bookcase exploits its flap opening to optimize the space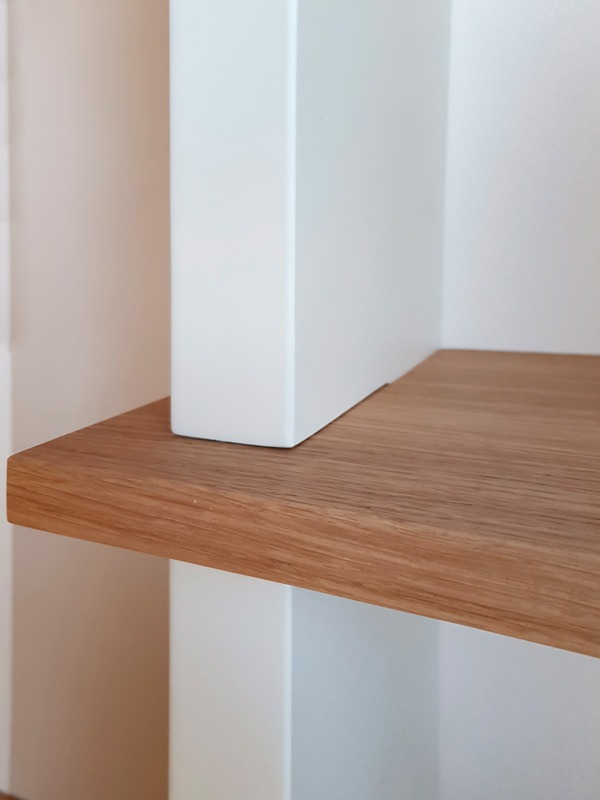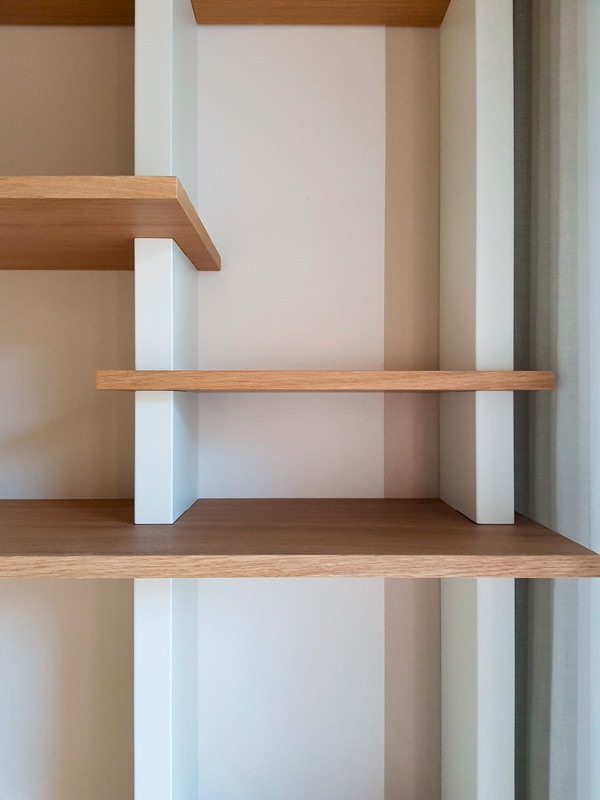 Material details with a strong aesthetic character: the wooden shelves are embedded in the shoulders by the vertical reading in MDF
On the other hand, the solutions that take advantage of the reduced heights with rough and natural surfaces have a more romantic soul. In this example, a cherry wood worktop expresses all its material uniqueness with visible knots and a rustic profile, without sacrificing sophisticated details. However, the simple but incisive design line does not renounce practicality. For this reason, a hole has been provided for the passage of cables along the depth of the top, making it also functional for the electrical preparation.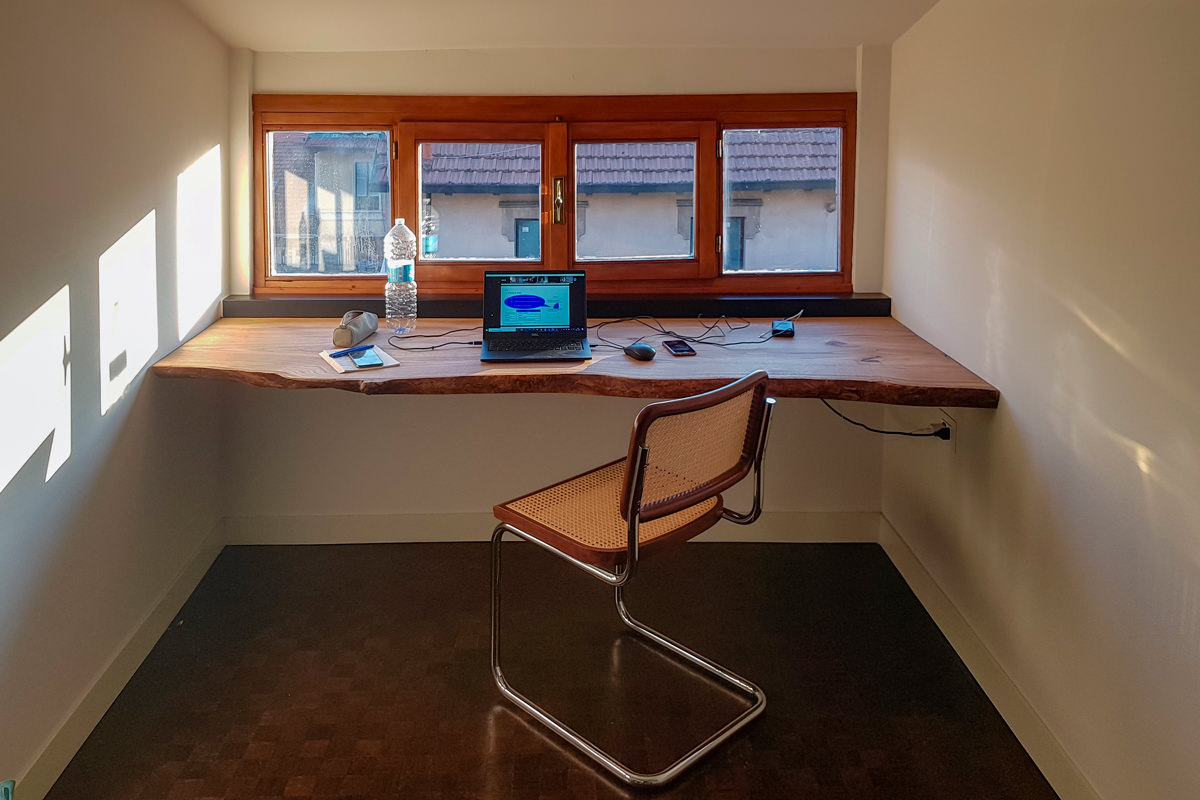 Modern furnishings and natural elements harmonize in this smartworking corner with an authentic soul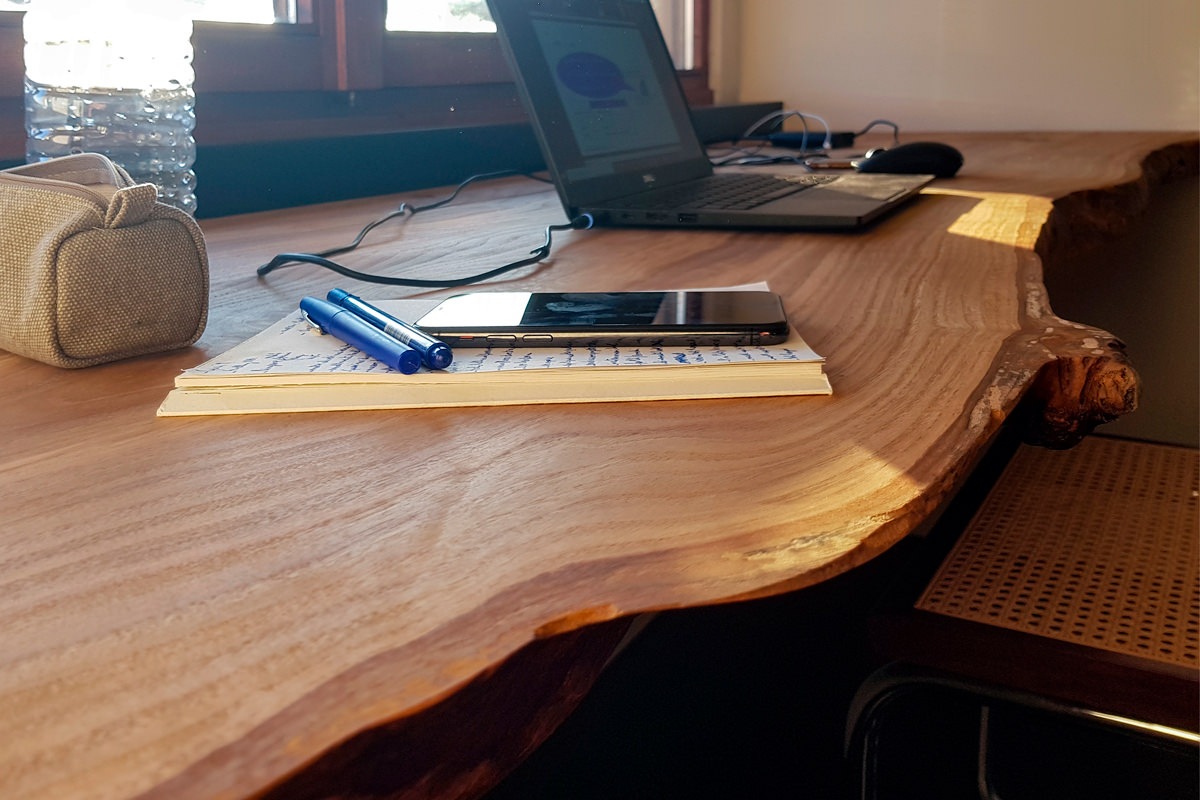 A raw cherry wood top expresses all its naturalness
The smart working that has overwhelmingly spread in these difficult times will most likely not remain a transitory phenomenon but will increasingly become part of our life, it will become a necessary space in the home. We designers are ready not to forget it in the design phase and follow its evolutions.