Scent of countryside, the relaxation of a warm and welcoming home, the search for a natural but at the same time refined style. All this is the Country style and more and more people are choosing it for their home furnishings.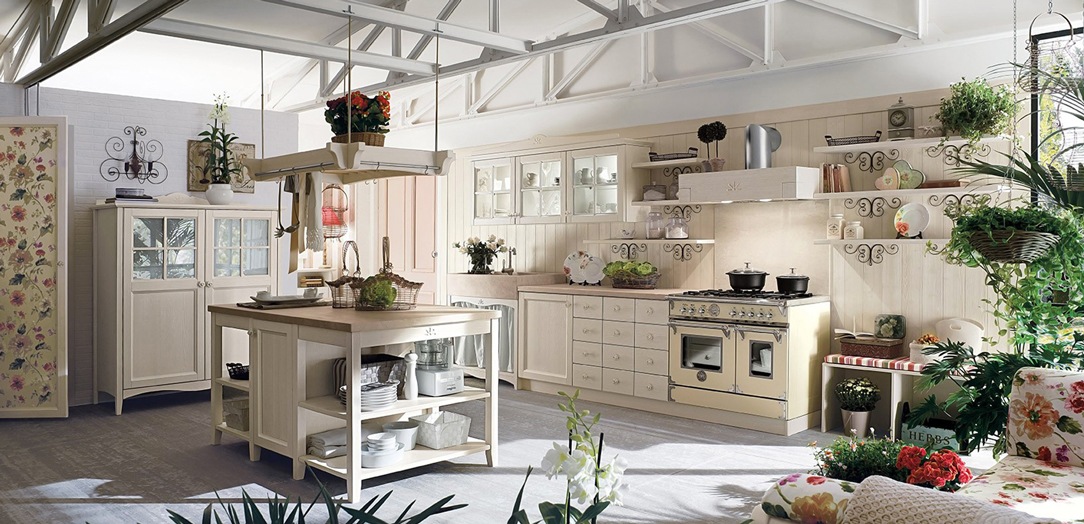 kitchen in Country style.
MEANING OF THE WORD
Synonyms of the term country are "countryside, rustic, rural", therefore everything related to the earth, to nature. A return to our peasant origins in opposition to a world that chases technological progress with increasingly aseptic environments.
Simplicity and refinement make it current even if its origins are distant. In fact, it was born in England in the late nineteenth century, when the English nobility needed to get away from the Victorian splendor and rediscover the country peace.
This style of furniture in fact favors wood and, more generally, all warm and natural materials. It can also be declined in variants such as: romantic, Provencal, chic, rustic, American or modern according to the taste and preferences of those who choose it for their home environment.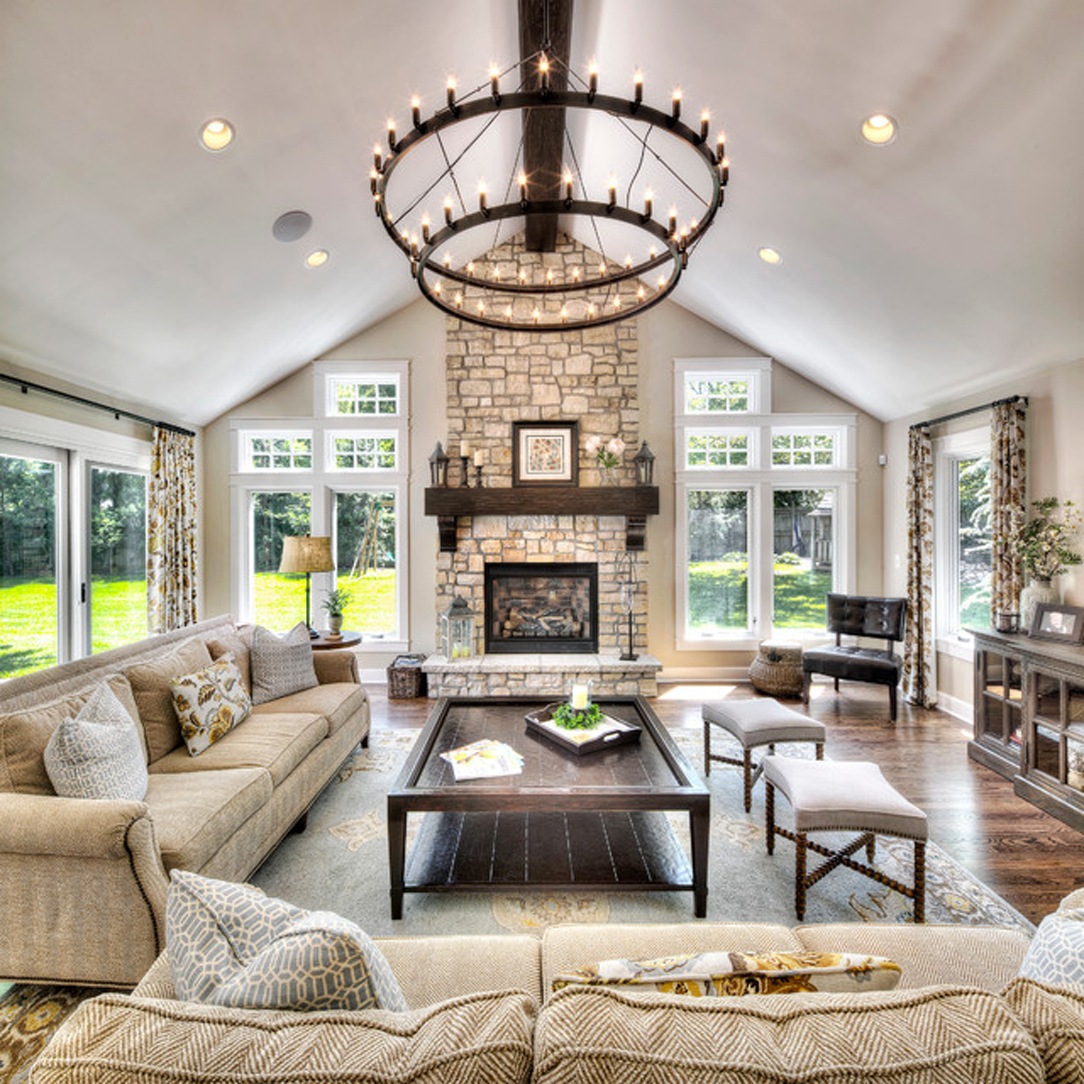 Country Style living room.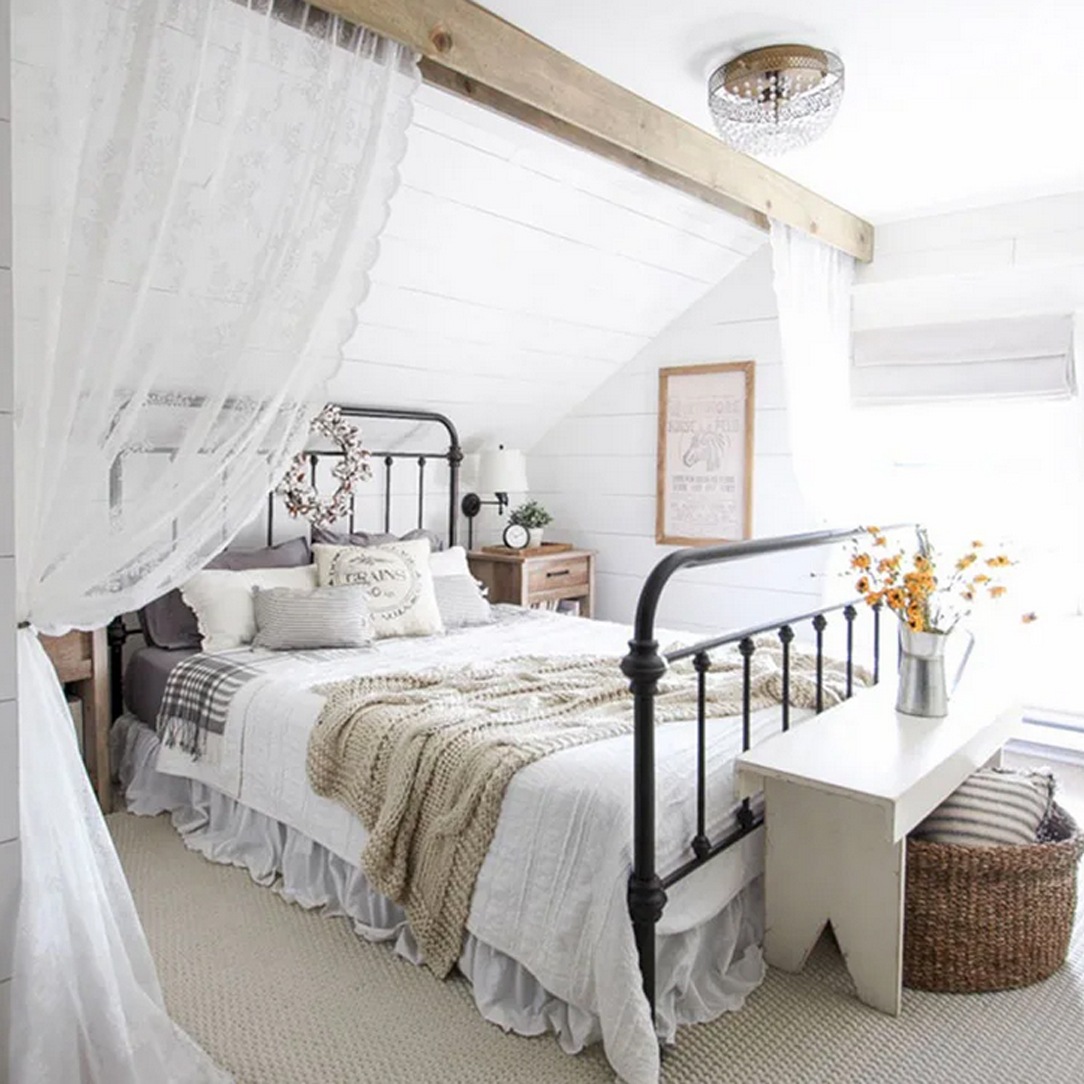 THE DOMINANT CHARACTERISTICS OF THE COUNTRY STYLE
The country style is characterized by classic furnishings, with shaped profiles and interior decorations. Its best expressed in an environment with exposed stone, ceiling with wooden beams and a nice warm fireplace in the center of the living area.
The aim is to be able to convey the sense of relaxation typical of a country house even in a city context. However, the "rusticity" of the style is enhanced by an extreme refinement in the elements and details that fill the environment and nothing is left to chance.
Typical complements of country furniture are the tables in solid untreated wood, the chests made entirely of wood or with elegant metal legs and the curtains that also become an integral part of the furniture.
In this country-style kitchen we made, the checkered curtain takes the place of the doors under the sink. Refrigerator and dishwasher are strictly built-in, while the oven and hood are visible and represent the heart of the kitchen. Speaking of details, here each knob has its own characterization and has been chosen with care.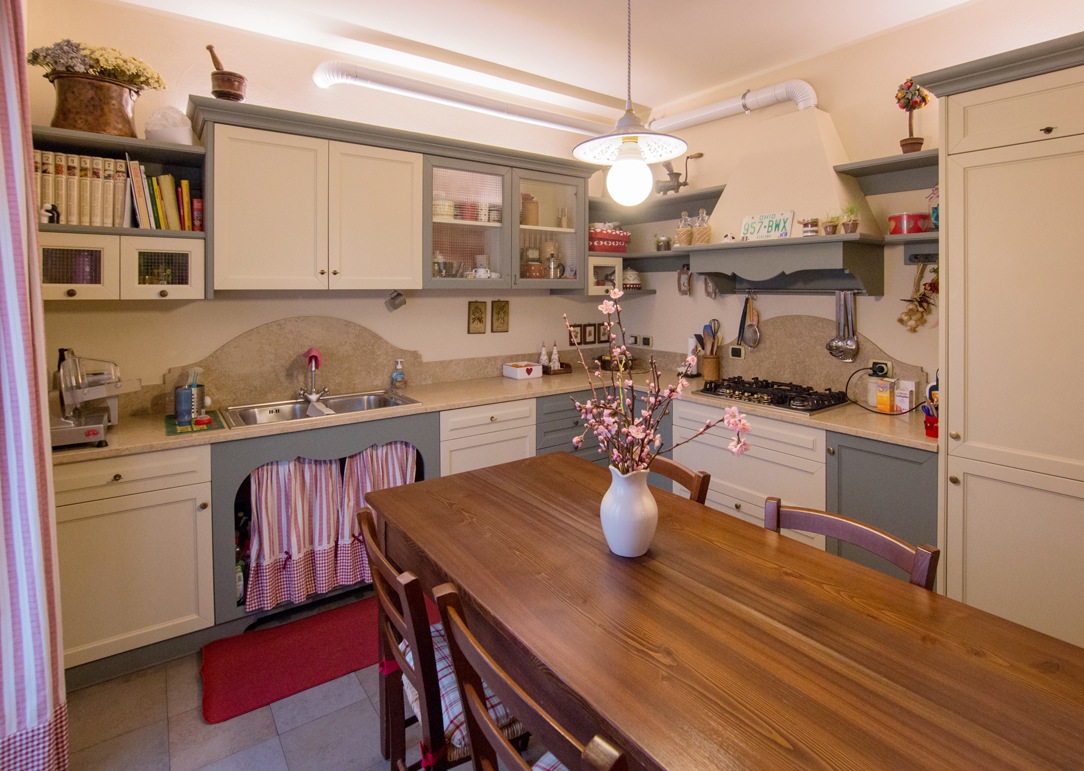 our realization in Country Style.
Country Style kitchen details.
Are often used recycled furniture such as old sideboards, bedside tables, dressers, wardrobes. In the country bathroom, a free-standing bathtub with a vintage look and stone walls cannot be missing. Vintage and "decorative recycling" objects are inevitable, that is glass bottles, jars or all those small objects that, cleaned and decorated, can change their intended use and become nice decorative elements or containers.
To enrich the environment, knick-knacks are welcome, especially if in ceramic and old crochet doilies. Vases with plants and flowers cannot be missing either, the impression must be that of a really countryside house. Flowers are an essential element because they give delicacy and a touch of romantic mood to all rooms.
Bathrooms in Country Style.
COLORS AND MATERIALS
Country style prefers natural colors, such as those of wood, used as a base for more decisive color combinations, like cherry red, sun yellow, baby blue, ivory and all shades of green.
These shades immediately give to the environment a decidedly welcoming and romantic atmosphere. For the armchairs and other upholstered items, the choice goes to the floral textures, which are then embellished with many colored or neutral colored cushions.
In fact, the country foresees a great use of fabrics with particular textures and decorations, such as checks for tablecloths and flowers and polka dots for curtains and sofas. Even for the bedrooms you can opt for wallpapers and, as a complement, themed bedspreads and sheets.
The materials to be used are wood, stone and wrought iron especially in the chandeliers and headboards of the beds. For the back of the kitchen and for the bathroom, white ceramic tiles or in some patterns of blue, gray, sage or delicate pink are preferred.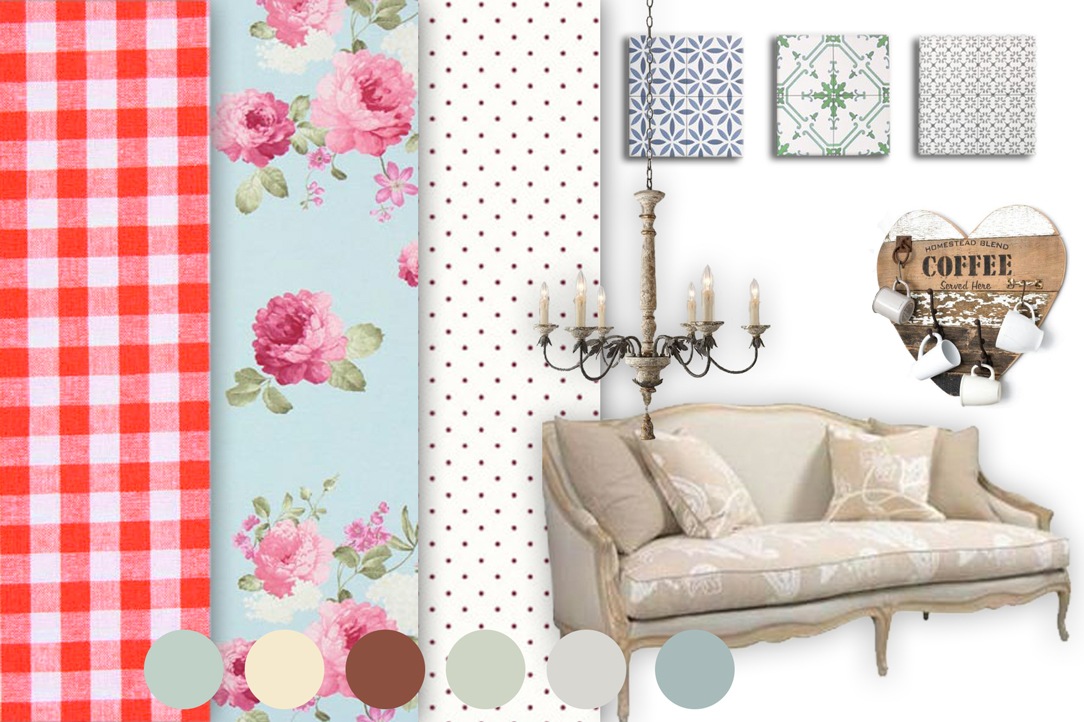 References of fabrics, textures, objects and colors of the Country Style.
MODERN COUNTRY
The variants of the country style are many, but the one we prefer is the Modern Country style, less characterizing but more suitable for everyday use.
The Modern Country mixes vintage furnishing accessories with minimal or industrial ones. Sometimes it is enough to leave stone walls or exposed brick walls, opt for a large solid wood table and it is already possible to recreate a country atmosphere but not overly ancient.
This flavor of modern country can also be found by modernizing the style of old peasant houses with pieces of modern design that make them more refined. Here we present the living area of ​​a splendid Sicilian Villa in which the ancient stone oil mill is located in the center of the room, surrounded by traditional dark wood furnishings and stone walls, but also very minimal backlit elements.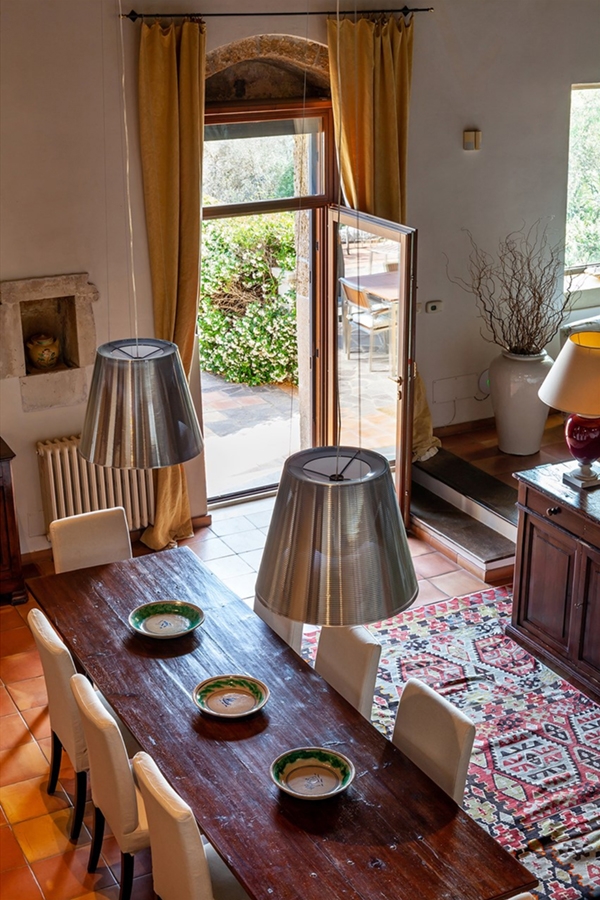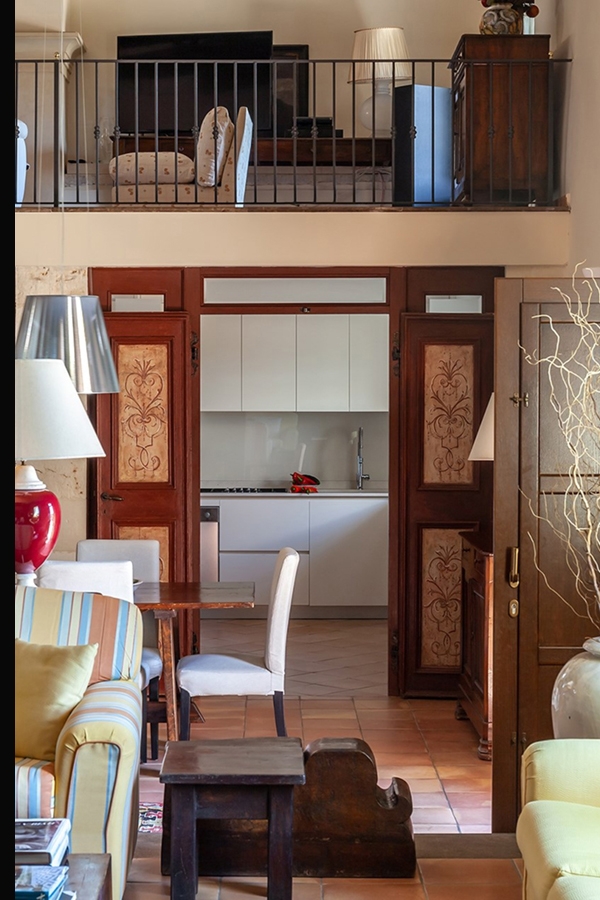 Details of the wide living room.
Those who choose the Country style have a romantic spirit and love to enjoy their "home sweet home" in relax.
​