For stove enthusiasts Masterchef is a fact, fully equipped kitchens in polished steel, complete with all the coordinated appliances make you want to create delicious dishes.
STAINLESS STEEL
It is the most used material in the kitchens of great chefs, which is why steel cooking is very trendy today. Most of the appliances and hobs are completely in steel or in any case have characterizing steel finishes, having a single-material kitchen certainly uniforms the environment in which it is inserted. Resistant, durable, hygienic and shiny, steel has all the characteristics that are needed by those who love to cook in order and rigor and are looking forward to showing their diners new culinary creations. But be careful not to make the kitchen too aseptic, to insert an industrial kitchen in a family environment it is useful to create a harmonious project that also gives it a little personality and warmth.
CONTEXT
The kitchen we analize here is located inside a very modern villa, located in Hanoi, Vietnam, surrounded by a garden with lush flora. The entire structure was built with a light building envelope, characterized by large windows and thin white painted iron rods, it has external wooden paved passages with transparent covers. Light filters everywhere and the industrialized structure is consistent with the interior design project and goes well with the wild nature outside.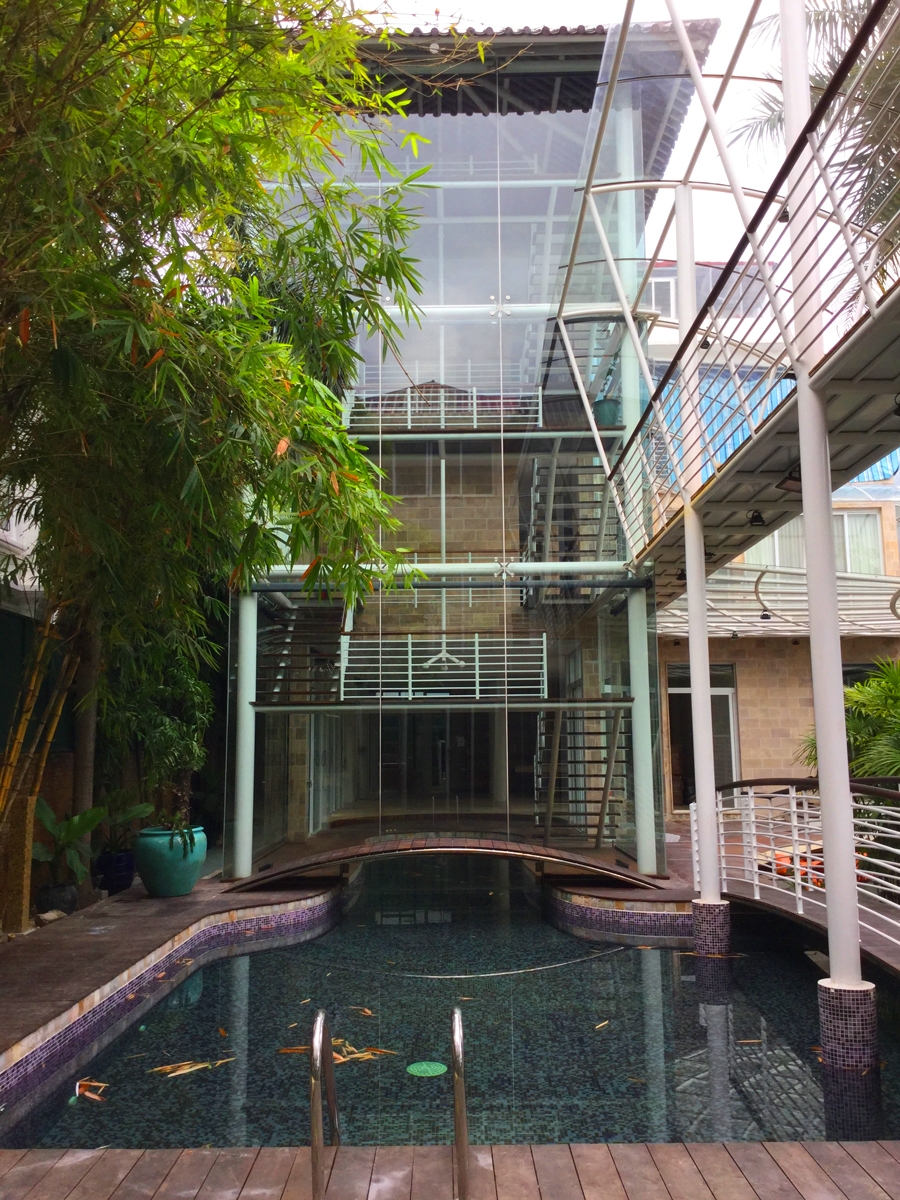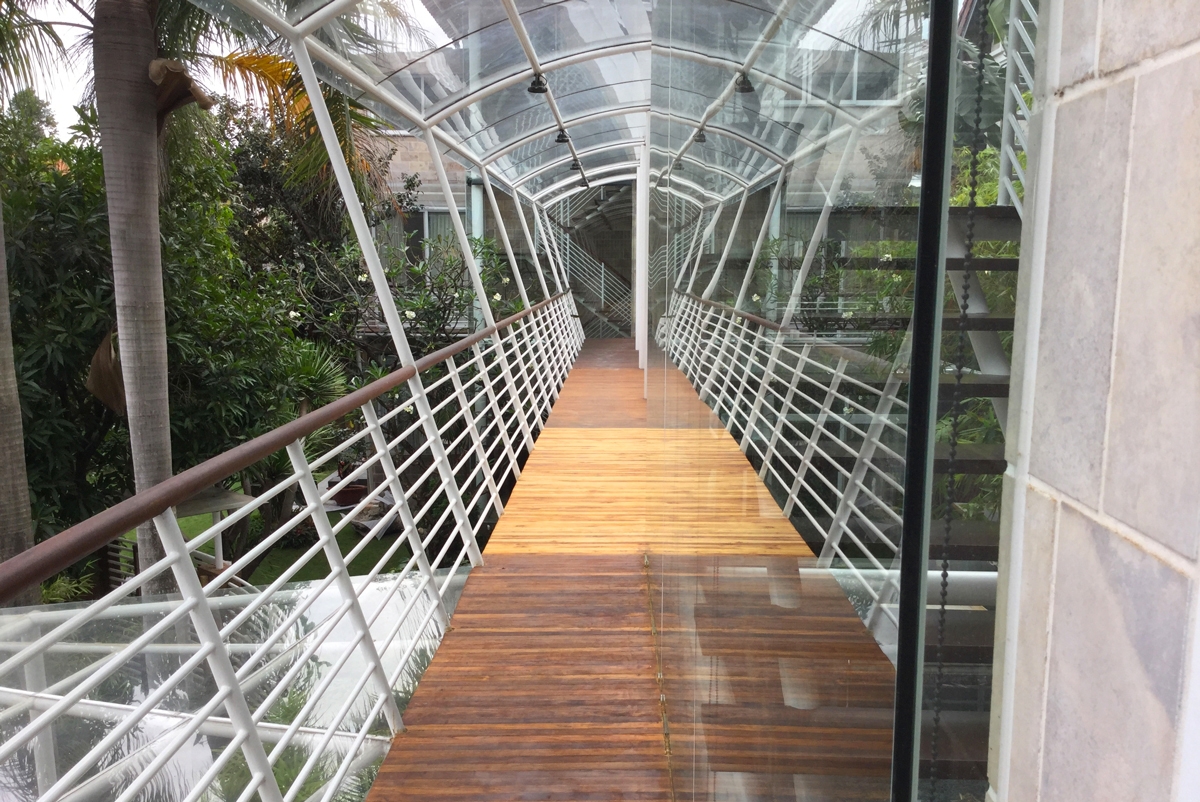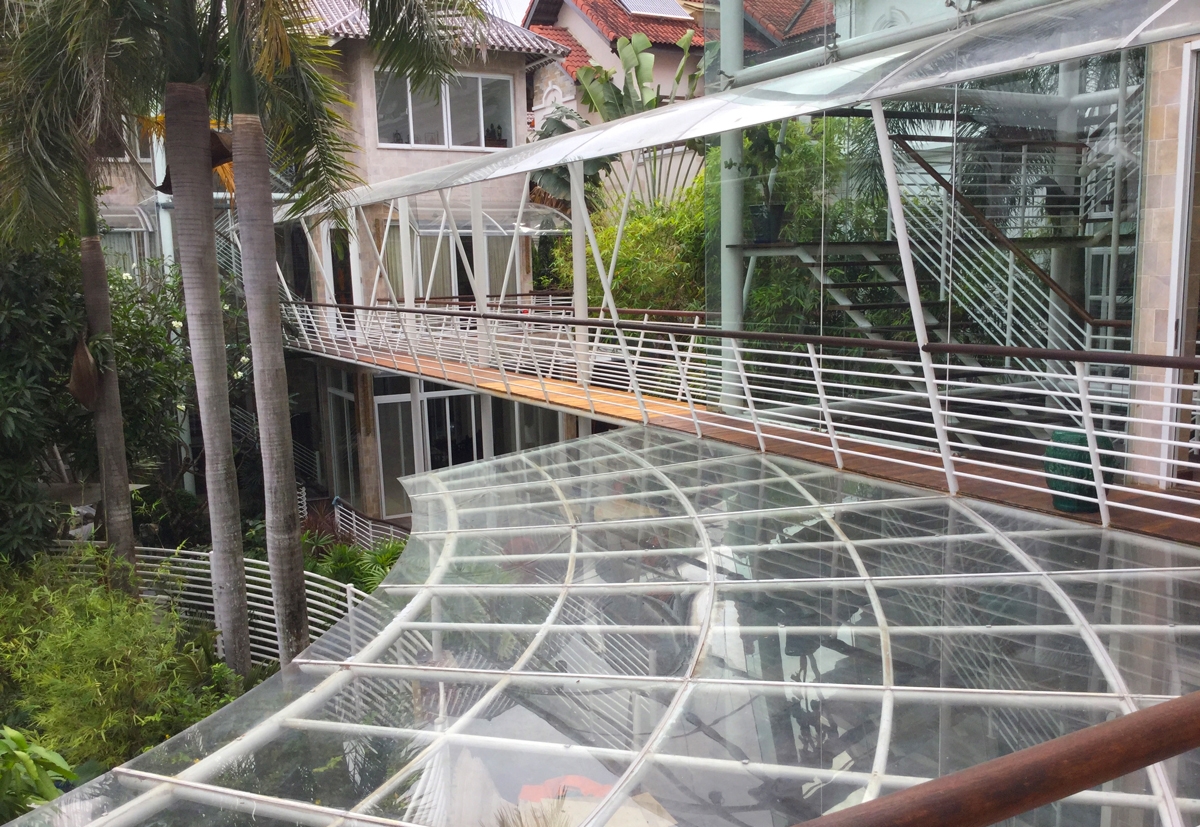 PROJECT AND REALIZATION
The design of this large and bright kitchen was made from a renowned Milanese studio, successful in the arduous task of balancing spaces and materials. An harmonious union in industrial style but with the soul of a domestic kitchen. In this large open space room the kitchen is divided into different compnents. At the center, a well-equipped central island with a ceramic hob takes place. Two side cooking elements with grill and teppanyaki housed on a light gray marble top follow that central part. A huge central hood covers the entire surface of the island and arriving towards the kitchen area the first thing you notice is this central monolithic block which is illuminated by the light of the large rear windows. On the left side there is an element consisting of two refrigerated columns and an oven column, in the upper part of the open compartments with symmetrical central shelves in sheet metal. This side is reflected in the elements on the right, where there is another built-in refrigerator, a wine cellar and again open shelves in the upper part. The "bar" cabinet on the side of the window is interesting, consisting of a low steel cabinet with shelves and an upper light box from where a series of glass holders in metal tubes and plexiglass are ready to welcome a wide service of wine glasses.