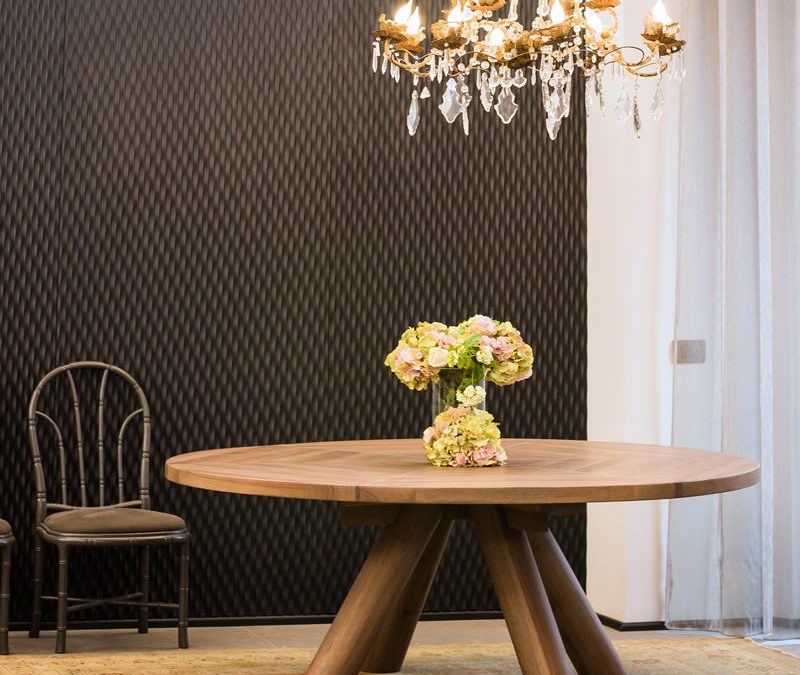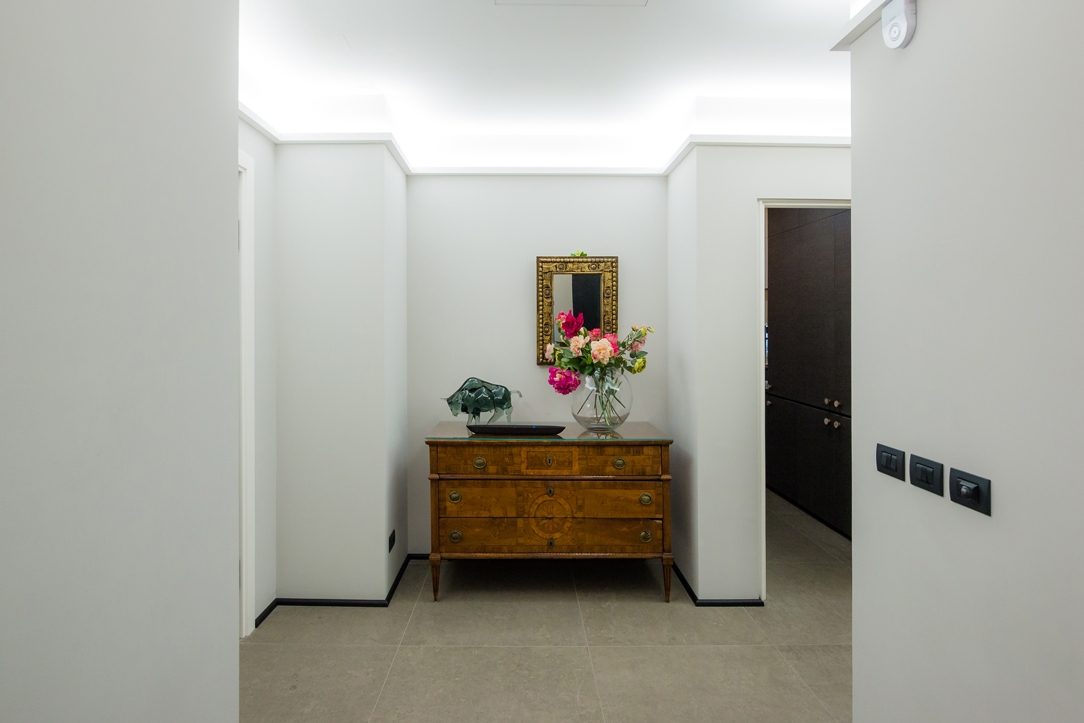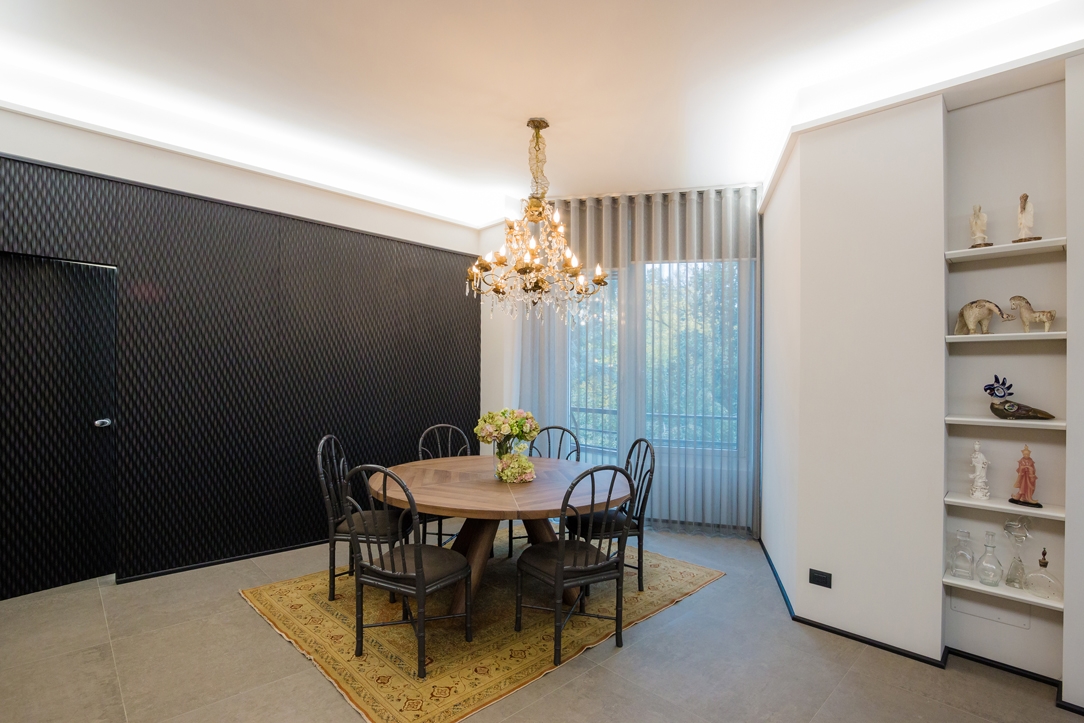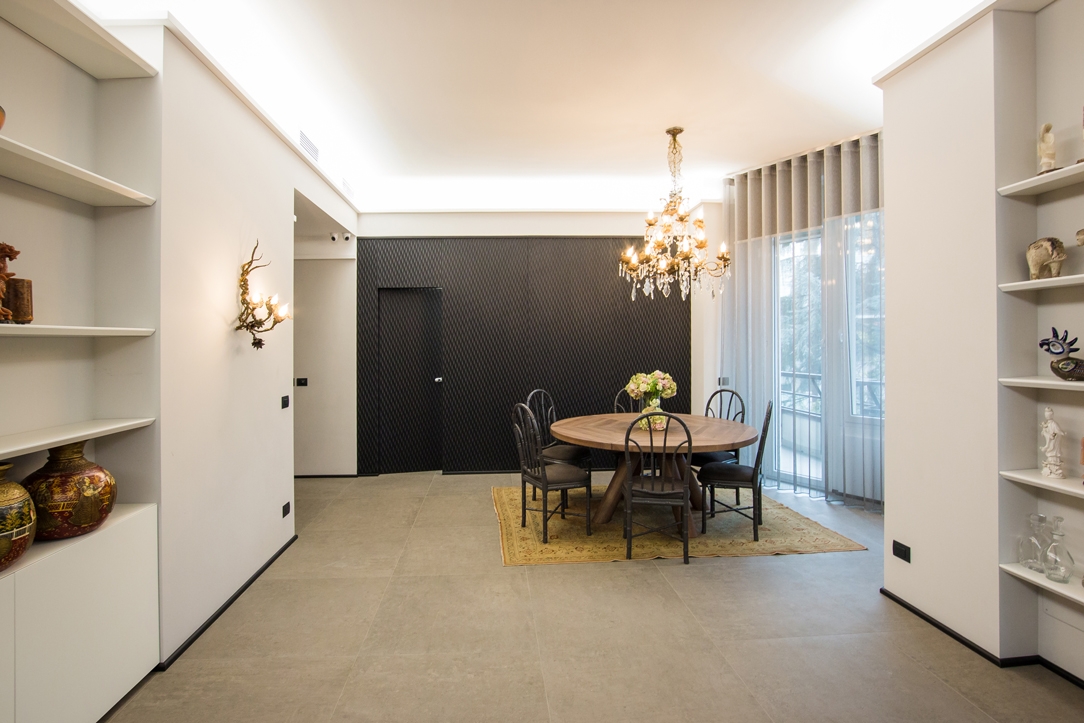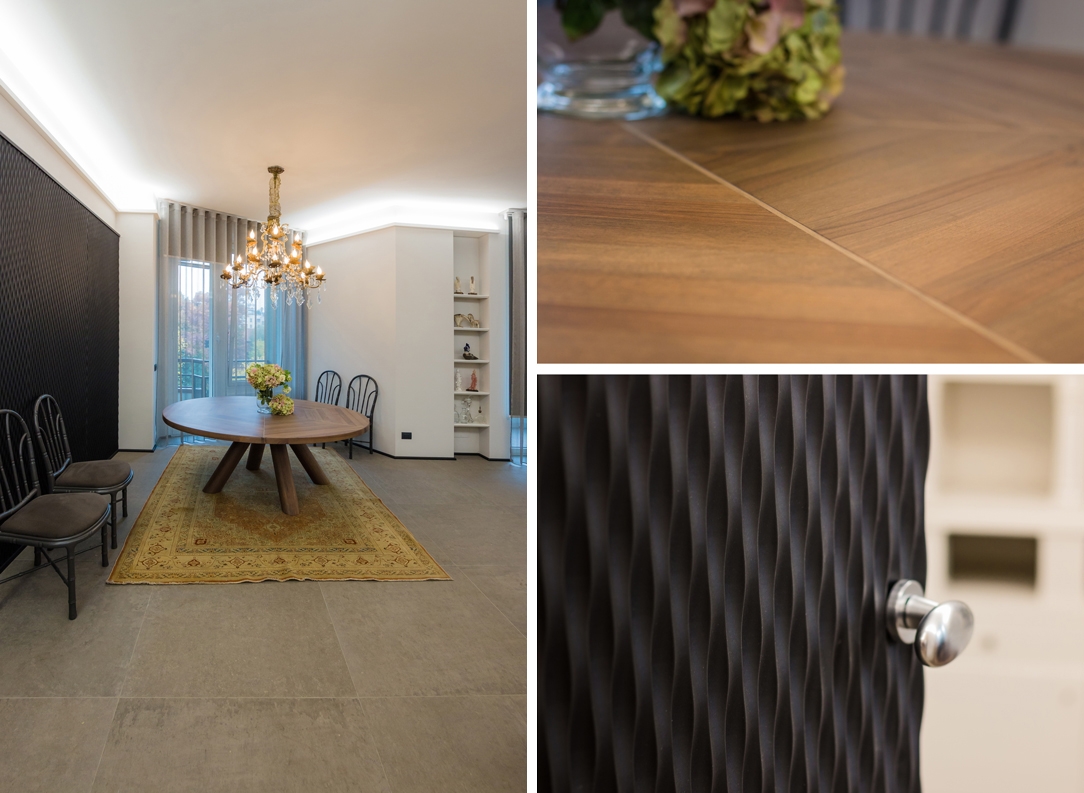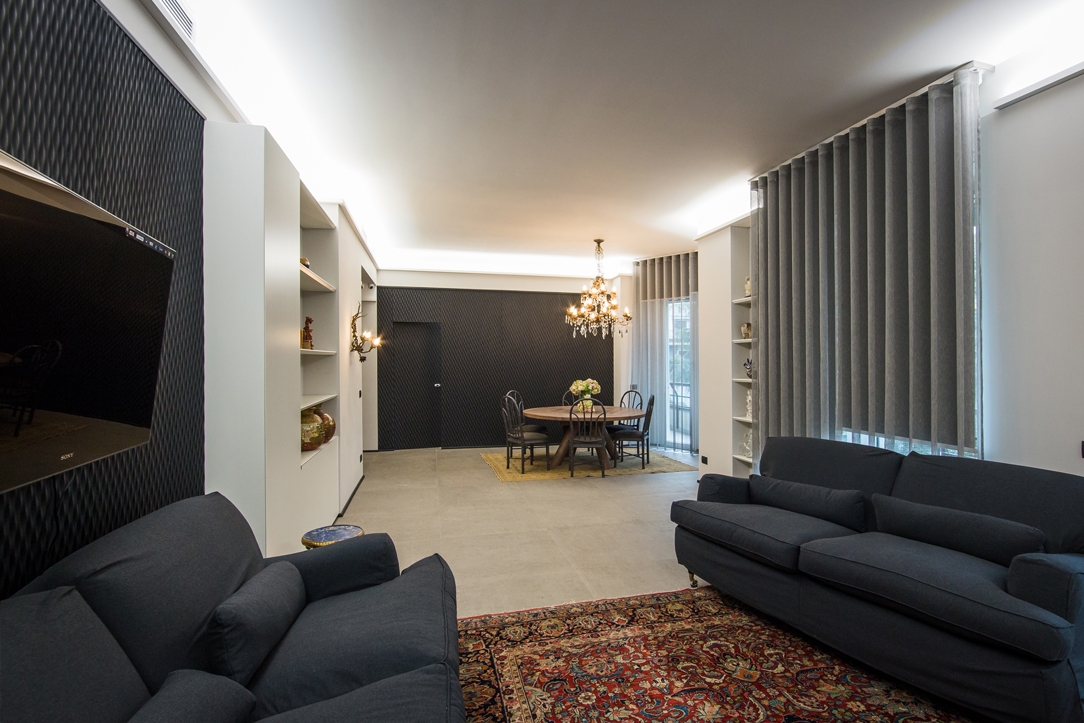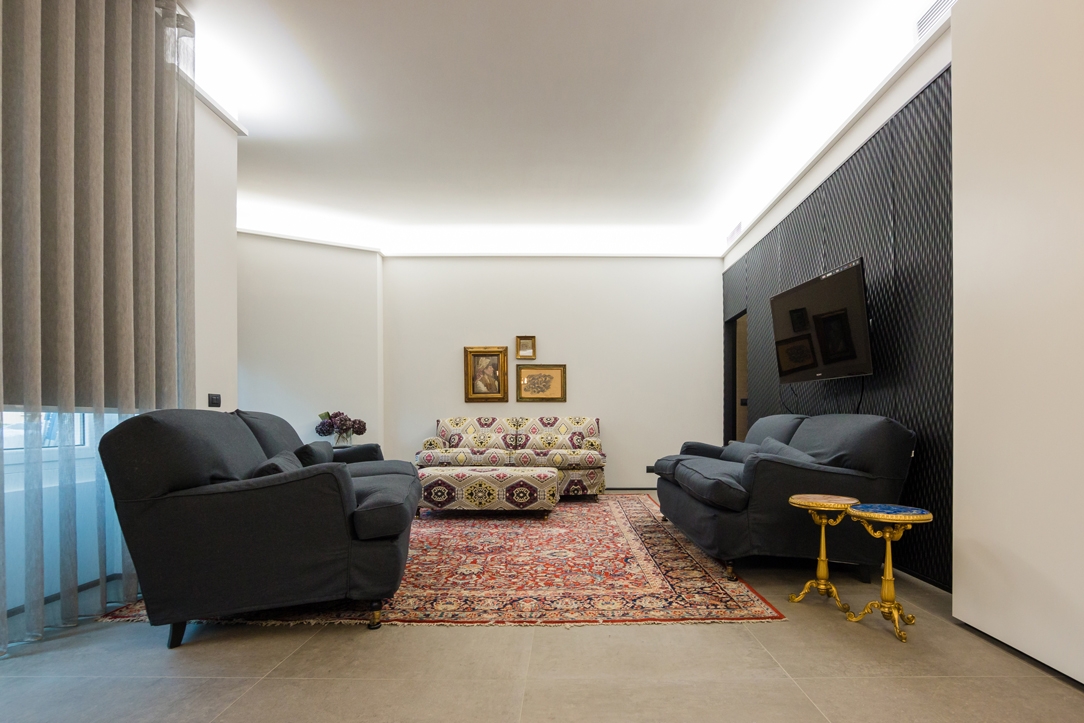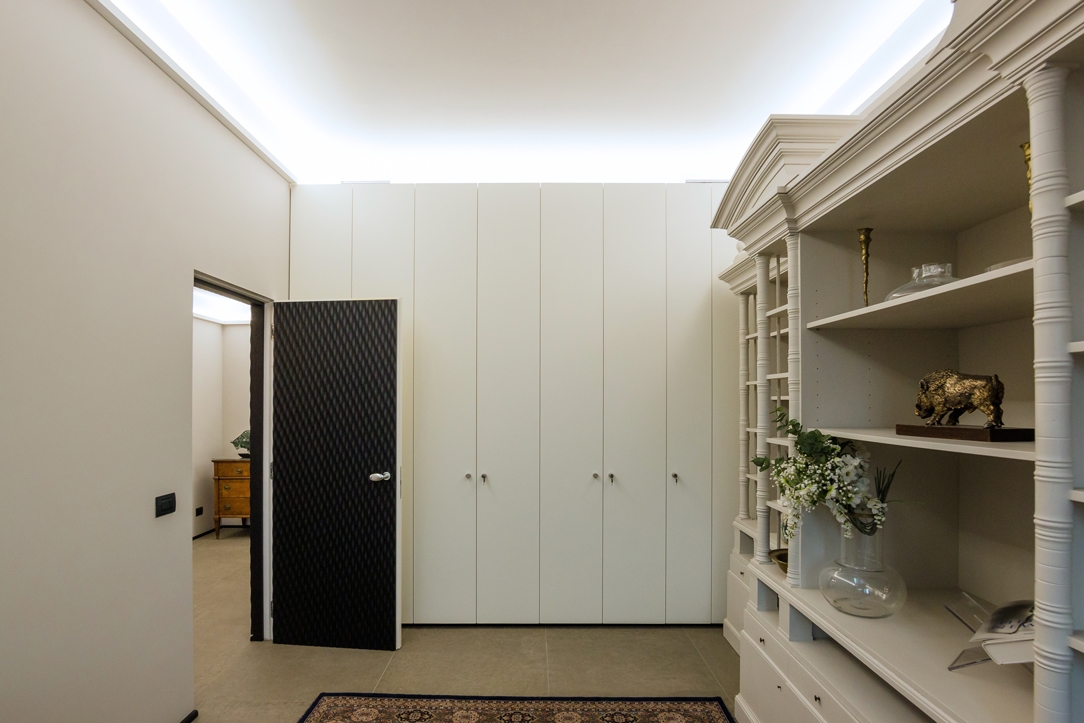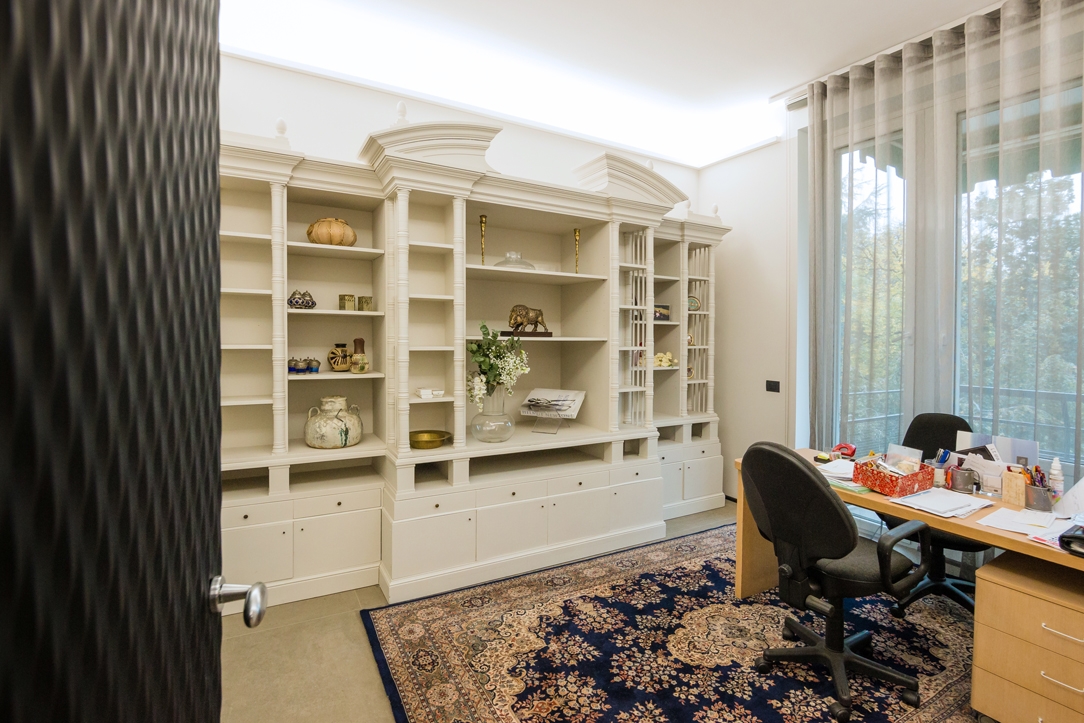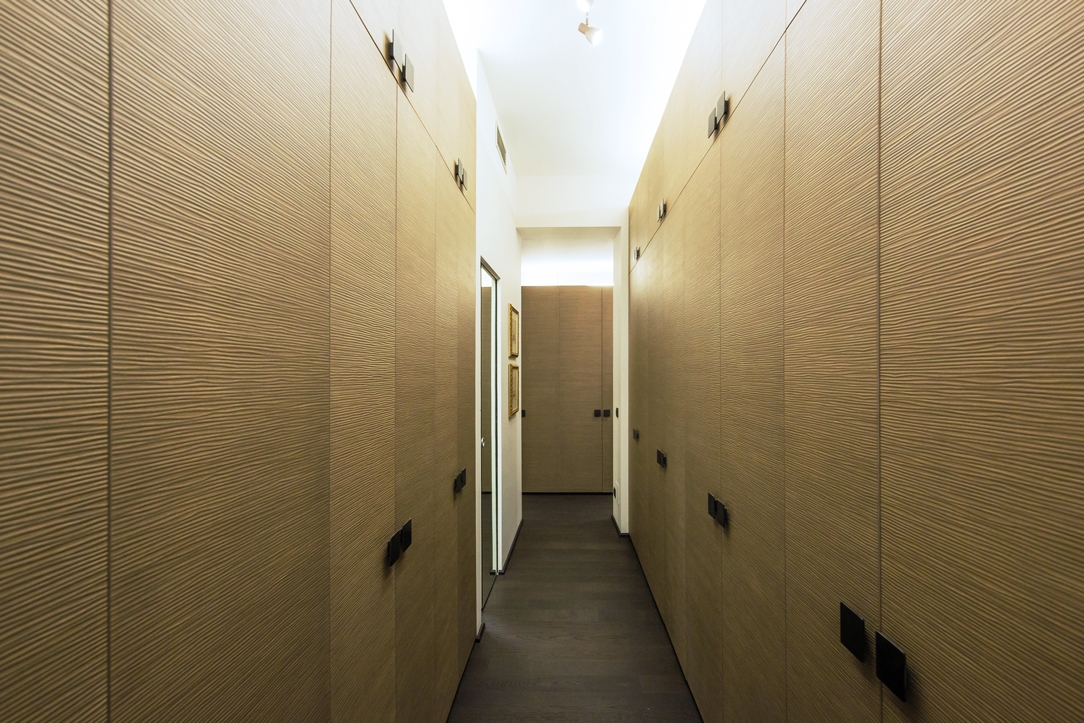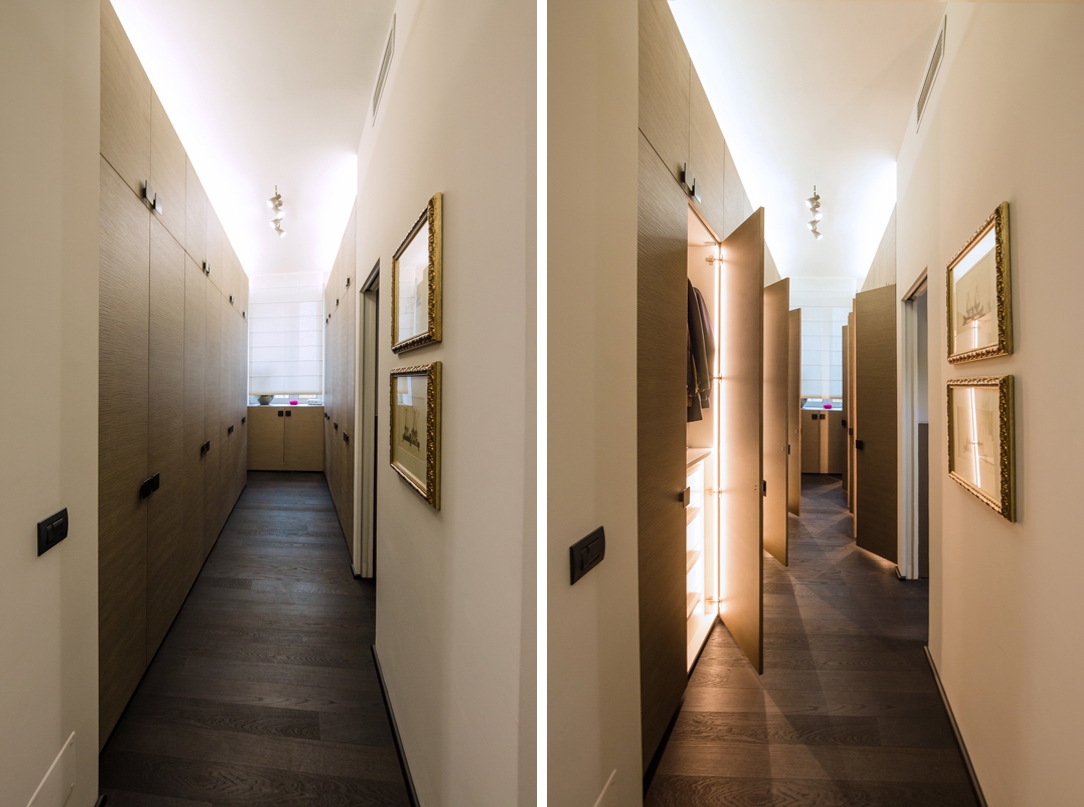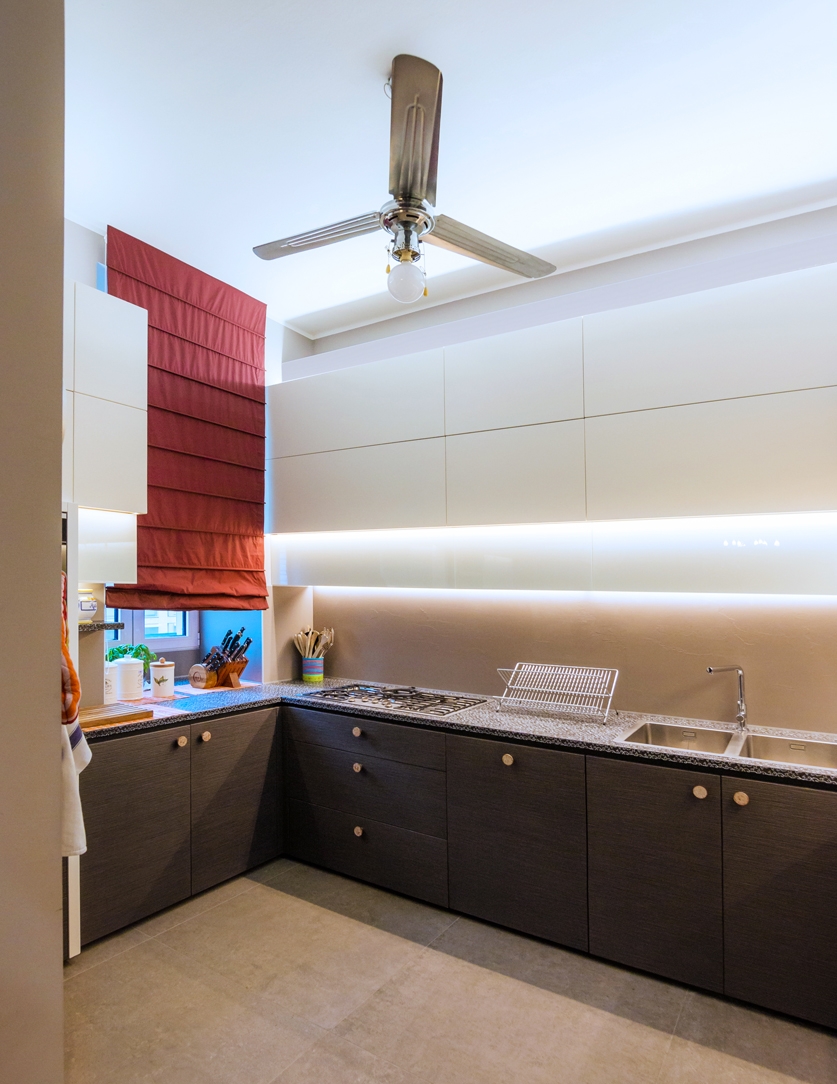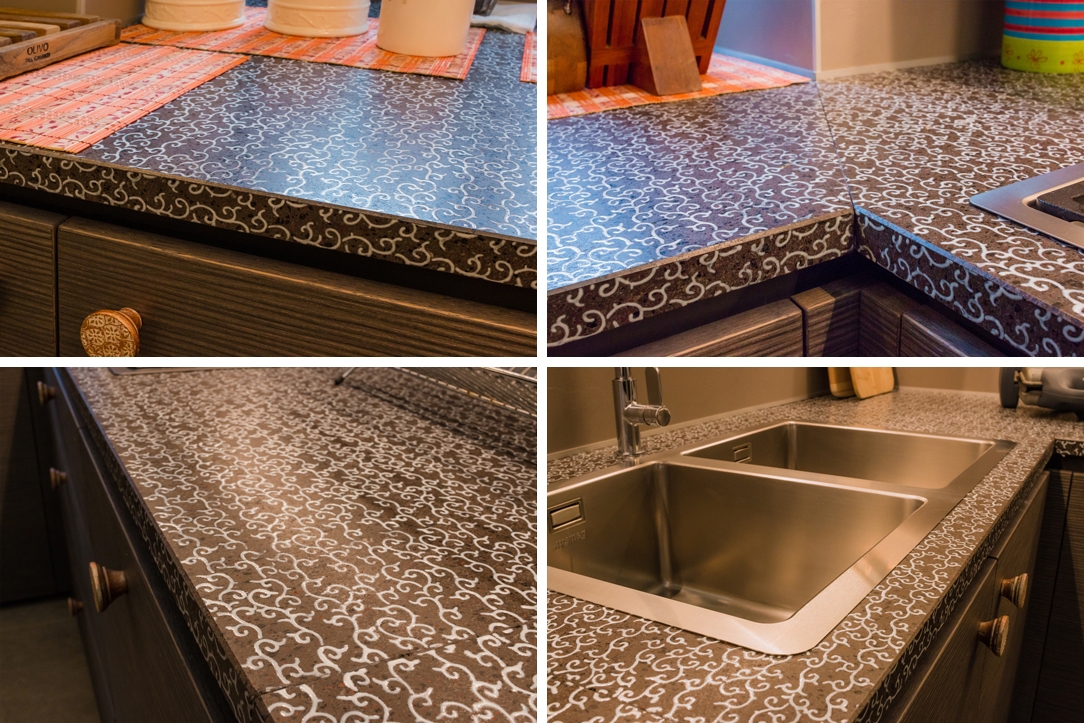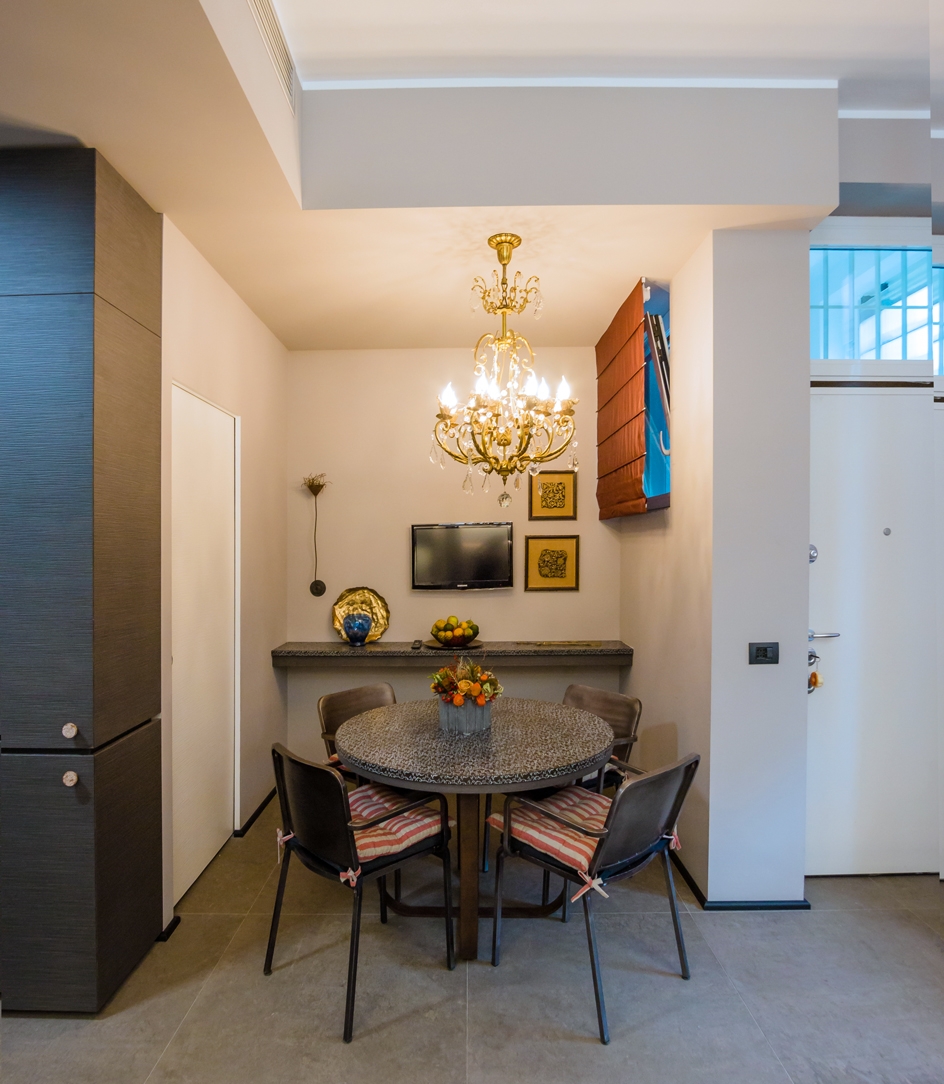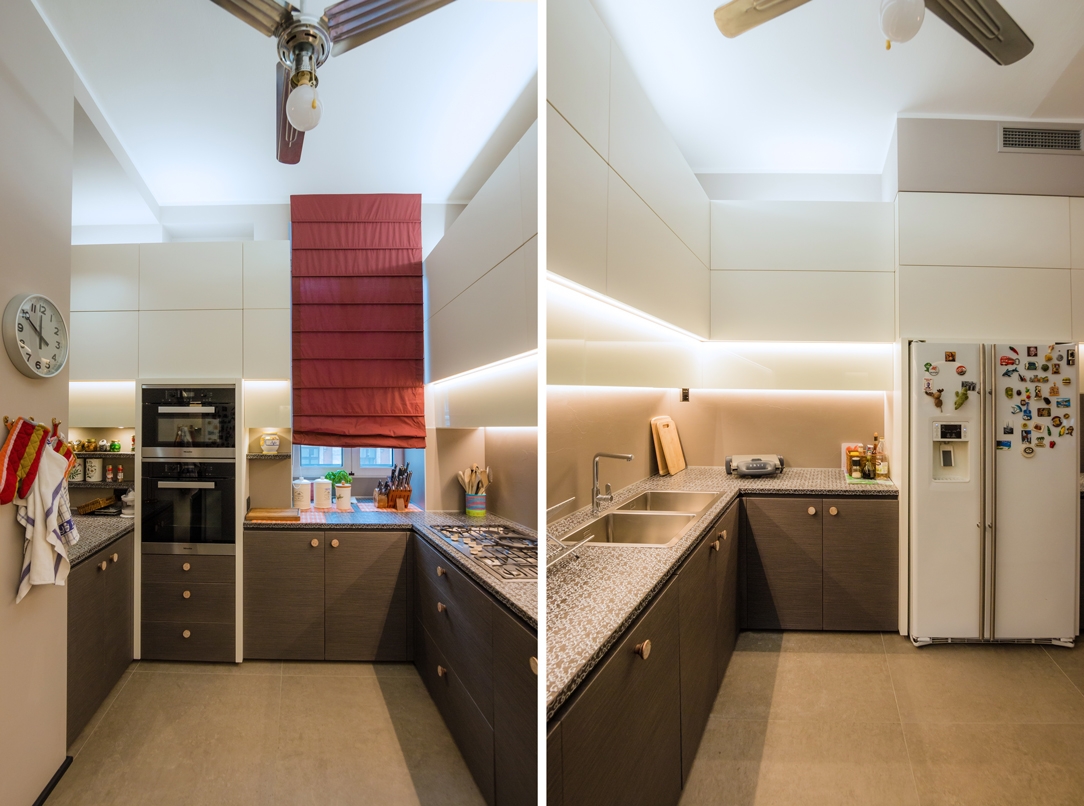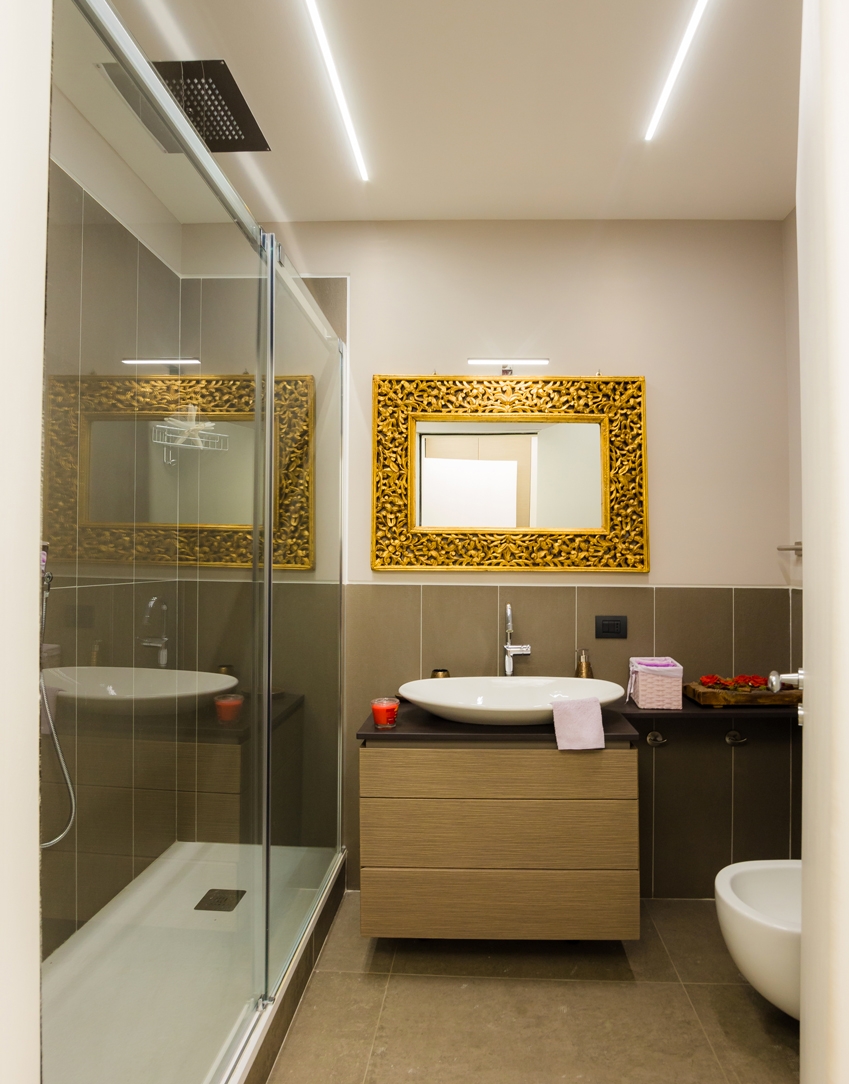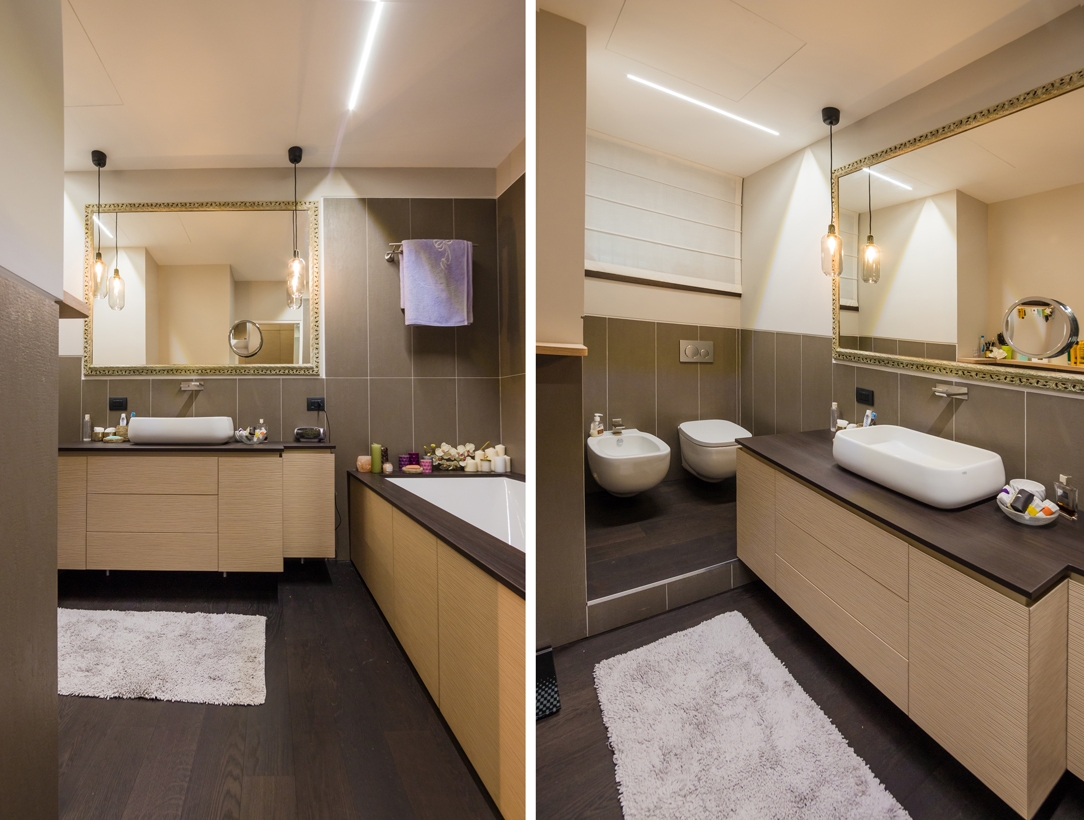 Refined matches
A classy apartment in which innovative materials match well with antiques and luxurious objects.
Project: Arch. Pierluigi Fasoli
Year: 2017
Site: Milano
A refined Milanese apartment completely renovated and made even more special by innovative choices of materials. Starting from the entrance, a subtle and discreet perimeter profile on the ceiling with internal LEDs distributes a soft and very bright light and is found in most of the rooms and corridors in the house. On the right there is a large room which hosts both the dining area and, moving your gaze towards the bottom, the living and relaxation area. The combination of the central round table characterized by a particular laying of the wood and the sumptuous upper crystal chandelier with the very modern black wall in black MDF shaped with a wave effect is interesting. Equally modern are the niche shelves that blend well with the elegant sofas and, in reference to that of the dining area, another black wall become the back of a television hanging on the wall.
The hidden door in the wall covered in black MDF gives access to a private study, where a classic piece of furniture has been recovered and white painted to lighten the environment. White is the color that prevails inside the apartment and tends to visually make all the spaces available even wider. For the kitchen and the cupboards of the corridor, the chosen material is stained oak ribbed and it is precisely this sensorial materiality of the wood its peculiarity. The wardrobes are internally illuminated and are characterized by square and beveled handles in black waxed iron made to design, a distinctive signature of the architect. In the kitchen another particular material used is the lava stone for the top and the round serving table, on which a particular guilloche texture has been hand drawn. The ceramic knobs also take up the same graphics as the kitchen worktop and have been handcrafted. Also the table's legs of the round table are tailor made in black waxed iron. To lighten the lower part of the very dark kitchen, the upper, high and storage cabinets have been lacquered in a glossy white.
The bathrooms where the washbasin cabinet was made of the same ribbed wood that characterizes the kitchen and wardrobes are also very elegant. A neutral dark gray ceramic material was chosen for the top, which are then combined with swanky mirrors with worked frames in gold color. The general characteristics of the apartment are therefore rigor and essentiality combined with elegance and sumptuousness in a balanced combination, all defined by custom-designed and attention to detail furnishings.
Refined matches
A classy apartment in which innovative materials match well with antiques and luxurious objects.
Project: Arch. Pierluigi Fasoli
Year: 2017
Site: Milano